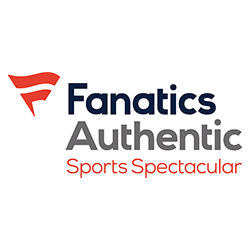 Bringing out the most attendees, the city always inspires us to find new ways to create memories for fans, such as the new experience we offer to play catch with NFL Hall of Famers.
Sunrise, FL (PRWEB) February 29, 2016
Fanatics Authentic is heading to Chicago for its first sports memorabilia show of the calendar year on Friday, March 18th. The Donald E. Stephens Convention Center in Rosemont will host to over 80 elite athletes and their biggest fans over the course of the three day event. At the Chicago Fanatics Authentic Sports Spectacular, top names from across various professional sports are going to be signing autographs, posing for photo ops, and interacting with fans.
Friday March 18th through Sunday March 20nd, Chicago area sports fans have the chance to attend an exciting weekend of events that is sure to create memories to last a lifetime. The lineup for the Fanatics Show in Chicago features some of the greatest athletes to ever represent the city, including Bobby Hull, Dick Butkus, and Andrew Shaw, as well as the greatest in their respective sport, such as Mike Piazza, Joe Montana, and Hakeem Olajuwon. Among the large number of sports icons to attend the show is NFL studs Todd Gurley, Antonio Brown and Amari Cooper, as well as the 2016 Pro Football Hall of Fame inductees, Orlando Pace, Marvin Harrison and Kevin Greene. Baseball legends Kirk Gibson and Mike Schmidt, Basketball Hall of Famers Dennis Rodman and Clyde Drexler, and World Cup champions Hope Solo and Christen Press will also be in attendance. The show is also offering roll back pricing for autographs from Earl Campbell, Paul Hornung, Kyle Fuller, Len Dawson, and Steve Largent at their price in the early years of their careers. With signings, photo opportunities, more than 350 vendor tables, and even the incredible opportunity to catch a pass from Hall of Fame quarterbacks Joe Montana, Jim Kelly and Dan Marino, the Fanatics Authentic Sports Spectacular is sure to please fans of all loyalties.
"Chicago is one of our favorite stops on the Fanatics Authentic Sports Spectacular schedule each year," said Ross Tannenbaum, President of Fanatics Authentic, "Bringing out the most attendees, the city always inspires us to find new ways to create memories for fans, such as the new experience we offer to play catch with NFL Hall of Famers."
The Fanatics Authentic Chicago Show caters to all sports fans and collectors interested in attending with several different ticket options. For entrance to the show each day, general admission is just $10 for adults and $5 for children 10 and under, while children 3 and under are free of charge. On the other hand, devoted collectors and die-hard fans can purchase an available all-inclusive VIP experience for $99. In addition to admission to all three days of the show, the VIP package includes 30 minutes early entry every day before the show opens to the public, an express line bracelet to cut wait time for signings, one autograph ticket for VIP guest Kyler Fuller, one random autograph ticket, one random autographed 8x10 photo, and raffle tickets for the chance to win prizes. Tickets for autographs, inscriptions, and photo-ops can be purchased for all athletes scheduled to attend. Prices vary.
For more information in regards to the Fanatics Authentic Sports Spectacular in Chicago this March, visit http://www.FanaticsAuthenticShows.com or call 866-586-4915. Autograph tickets, authentication vouchers, and VIP packages can also be purchased on the website or at the show, which will be located at the Donald E. Stephens Center
About Fanatics Authentic:
Fanatics Authentic, the premier online destination for authentic autographed collectibles, is the memorabilia division of Fanatics, Inc. As the nation's largest online retailer of officially licensed sports products, Fanatics provides sports fans with the ultimate shopping experience via its brands, including Fanatics, Fanatics Authentic, and FansEdge. The company powers the online shops for all major professional sports leagues, like MLB Shop and NFL Shop, as well as media brands (FOX Sports, Yahoo! Sports, CBS Sports, NBC Sports), and over 200 collegiate and professional team properties. Fanatics also possesses official league licenses from the MLB, NFL, NBA, MLBPA, NFLPA, NCAA Football, NASCAR, CLC, PGA, NLL, and AFL.
With the support of Fanatics' unparalleled reputation as a Top 50 Internet Retailer Company, Fanatics Authentic offers sports fans a trustworthy and reliable source for authentic memorabilia. By developing exclusive athlete relationships with many of the top athletes in sports, including David Ortiz, Colin Kaepernick, Peyton Manning, and Kris Bryant, Fanatics Authentic boasts a product offering unlike any other manufacturer. Due to a large distribution network, Fanatics Authentic provides fast shipping to sports fans nationwide, and is on the ground, leading the way for product procurement to deliver 100% authentic items in hot markets and more.
Fanatics Authentic is proud to partake in exclusive game-used relationships with professional teams, providing fans and collectors access to same-day, game-used merchandise. These rare products are acquired by an expert member of the staff and authenticated onsite. In addition, the Company has an in-venue division that retails merchandise throughout stadiums nationwide. The Fanatics Authentic headquarters is located in Sunrise, Florida. Its 175,000 square foot facility is home to a premier custom framing, manufacturing, and engraving operation that is focused on delivering the highest quality products in memorabilia. For more information, visit: http://www.FanaticsAuthentic.com