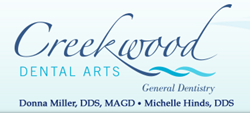 Waco, TX (PRWEB) February 26, 2016
Dr. Donna G. Miller and Dr. Michelle Hinds at Creekwood Dental Arts are now accepting new patients with sleep apnea in Waco, TX. Sleep apnea is a complex condition that can cause patients severe complications, including interrupted sleep and trouble breathing. The name means "without breath," which perfectly describes what occurs when patients with sleep apnea attempt to sleep. Patients can stop breathing for a few seconds to minutes at a time, numerous times during the course of the night.
Obstructive sleep apnea occurs when the airway becomes blocked. The tongue, or other tissues in the throat and mouth, may become too relaxed during sleep, causing them to block the airway. Any air that squeezes past the blockage can cause loud snoring. Sleep apnea is a potentially life threatening condition that may lead to chronic sleepiness, heartburn, morning headaches, depression, high blood pressure, stroke or heart attacks.
Oral Appliance Therapy (OAT) is a growing segment of dentistry that focuses on managing snoring and sleep apnea using a device similar to a mouth guard. This device is worn only during sleep to maintain an open, unobstructed airway. OAT devices prevent the airway from collapsing by either holding the tongue or supporting the jaw in a forward position. For many, oral appliance devices are more comfortable to wear than a CPAP mask.
Working with your physician, Drs. Miller and Hinds can make a custom fit mouth guard to treat sleep apnea. Research suggests that OAT therapy often matches the CPAP mask in effectiveness and offers higher patient comfort and tolerance. There are more than 80 different styles of oral appliance devices that can be custom fit to meet patient's needs. Each style can be adjusted over time to ensure maximum effectiveness.
Patients with sleep apnea in Waco, TX should be treated for this potentially serious condition immediately. Those who are having trouble tolerating the CPAP machine and mask, or who would like to learn more about sleep apnea and snoring, can call Drs. Miller and Hinds at Creekwood Dental Arts at (254) 870-9026 to schedule an appointment.
About the Doctor
Creekwood Dental Arts is a general dental practice offering personalized dental care to patients in Waco, TX. Drs. Donna G. Miller and Michelle Hinds provide an array of services with state of the art technology. Dr. Miller has been honored to receive The Mastership Award from the Academy of General Dentistry, the highest and most respected award in general dentistry. To learn more about Drs. Miller and Hinds or the services they offer, please visit their website at CreekwoodDentalArts.com or call (254) 870-9026 to schedule an appointment.