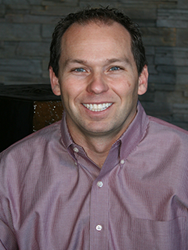 Durango, CO (PRWEB) February 26, 2016
In support of Gum Disease Awareness Month during February, Dr. Mason Miner is raising awareness about the health risks associated with this condition and encouraging patients who notice signs of gum disease in Durango, CO, to seek treatment. Gum disease can cause various oral health complications, and it may also put victims at risk for certain systemic illnesses. Dr. Miner helps patients mitigate these risks by offering laser treatment with the BIOLASE WaterLase® iPlus™ laser, which is more precise and less invasive than conventional surgery.
Gum disease can have impacts on oral health that are not naturally reversible, along with more widespread effects. This infection can break down the bone and tissue that support the teeth, which can result in tooth loss and decreased jawbone density. Gum disease may also allow harmful bacteria to enter the bloodstream and cause adverse effects, such as inflammation, throughout the body. Studies show that periodontal disease is associated with greater incidences of stroke, heart disease, colorectal cancer, Alzheimer's' disease and other chronic illnesses. Unfortunately, gum disease affects over 64 million Americans, according to the Centers for Disease Control and Prevention, and many of them may not understand the associated risks.
Dr. Miner is using Gum Disease Awareness Month as an opportunity to educate patients about these dangers and emphasize the importance of seeking treatment for gum disease in Durango, CO. To help people with concerns about undergoing gum surgery, Dr. Miner offers laser treatment using the BIOLASE WaterLase® iPlus™. This laser combines a stream of water with laser energy to enhance precision, minimize tissue irritation and reduce the need for anesthesia. This approach is highly efficient, since it does not require sutures or follow-up appointments. Dr. Miner's patients also benefit from a low risk of bleeding, discomfort and delayed healing after the laser treatment is complete.
People who think they might need treatment for gum disease in Durango, CO, are encouraged to schedule a consultation with Dr. Miner. Patients may request appointments by calling Dr. Miner's office or requesting an appointment through his website at http://www.masonminerdds.com.
About the Doctor
Dr. Mason Miner is a general dentist offering personalized dental care for the entire family, in Durango, CO. Dr. Miner is a graduate of Marquette University School of Dentistry in Milwaukee, Wisconsin. Beyond that, he also completed training in Advanced Education in General Dentistry at the University of Missouri, Kansas City. Dr. Miner focused his studies on the surgical placement and restoration of dental implants, which he offers as a service at his practice. Dr. Miner is a member of the American Academy of Facial Esthetics, American Dental Association, the Colorado Dental Association and the San Juan Basin Dental Society. To learn more about the services offered by Dr. Miner, please visit his website at http://www.masonminerdds.com or call (970) 306-0535 to schedule an appointment.