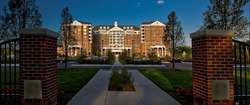 Ziegler is grateful to have had the opportunity to serve our friends at Plymouth Place once again. With the closing of this important financing, Plymouth Place has established a solid, efficient capital structure for future success...
Chicago, IL (PRWEB) February 26, 2016
Ziegler, a specialty investment bank, is pleased to announce the successful closing of the $56,260,000 fixed-rate, Fitch "BB+" (stable) Series 2015 Bond issue for Plymouth Place Senior Living (Plymouth Place). Plymouth Place was incorporated as an Illinois not-for-profit corporation in 1939 and was established by members of the United Church of Christ for the purpose of providing senior housing and related services to seniors in the La Grange Park, Illinois area.
The Corporation's continuing mission is to provide a retirement community, based on Christian values, that honors the individual's right to experience life to the fullest. The Corporation believes in the dignity and worth of each individual and the need to retain one's own personal identity and independence, and is dedicated to providing a gracious environment for individuals in their retirement years, as well as meeting the needs of the aging in the community at large.
Plymouth Place currently consists of 182 independent living apartments, 52 assisted living apartments, 26 memory support (dementia) assisted living apartments, and 86 skilled nursing beds. Plymouth Place also has a number of freestanding independent living cottages, 14 of which are available or available for occupancy. The community is located on 18.6 acres of land in La Grange Park, a suburban neighborhood approximately 15 miles southwest of downtown Chicago. Providence Management and Development Company provides day-to-day management of the skilled nursing unit of the community, internet technology and related services, and financial reporting, financial planning, and financial management services.
Proceeds from the sale of the Series 2015 Bonds, together with certain other funds, will be used to (i) pay for various capital improvements totaling $2.3 million, (ii) advance refund the Series 2005A Bonds in the current outstanding amount of $52,820,000, (iii) establish a debt service reserve fund, and (iv) pay certain expenses incurred in connection with the issuance of the Series 2015 Bonds and refunding the Series 2005A Bonds. Proceeds of the Series 2005A Bonds were used to redevelop the main building on the Plymouth Place campus, and to demolish the prior main building.
The Series 2015 Bonds extended the maturity of the refunded Series 2005A Bonds by 13 years from 2037 to 2050, and were amortized to "wrap" around Plymouth Place's existing 2013 Bonds to create an overall aggregate level net debt service structure. As a result of the lower interest rates and a later final maturity, Plymouth Place will realize annual cash flow savings of approximately $750,000 through 2037. Maximizing the annual cash flow savings was the primary goal of Plymouth Place's Management in connection with the financing. In addition, a number of covenants and legal provisions were modified through an amended and restated Master Indenture, in recognition of the fact that Plymouth Place is now a stable rated CCRC with relatively strong financial ratios. The occupancy levels and financial performance of Plymouth Place have improved considerably from the time of Plymouth Places Series 2013 financing, which was needed to refinance a non-renewing LOC Bank position that dated back to 2005 when the campus was being redeveloped.
"Ziegler is grateful to have had the opportunity to serve our friends at Plymouth Place once again. With the closing of this important financing, Plymouth Place has established a solid, efficient capital structure for future success. We look forward to working with Dale and his team on future endeavors," commented, Steve Johnson, Managing Director in Ziegler's senior living practice.
Ziegler is one of the nation's leading underwriters of financing for not-for-profit senior living providers. Ziegler offers creative, tailored solutions to its senior living clientele, including investment banking, financial risk management, merger and acquisition services, investment management, seed capital, FHA/HUD, capital and strategic planning as well as senior living research, education, and communication.
For further information on the structure and use of this issue, please see the Official Statement located on the Electronic Municipal Market Access system's Document Archive.
For more information about Ziegler, please visit us at http://www.Ziegler.com.
About Ziegler:
The Ziegler Companies, Inc., together with its affiliates (Ziegler), is a privately held, specialty investment bank with unique expertise in complex credit structures and advisory services. Nationally, Ziegler is ranked as one of the leading investment banking firms in its specialty sectors of healthcare, senior living, religion, and education, as well as general municipal and structured finance. Headquartered in Chicago, IL with regional and branch offices throughout the U.S., Ziegler provides its clients with capital raising, corporate finance, FHA/HUD, strategic advisory services and research. Ziegler serves institutional and individual investors through its wealth management and capital markets distribution channels.
Certain comments in this news release represent forward-looking statements made pursuant to the provisions of the Private Securities Litigation Reform Act of 1995. This client's experience may not be representative of the experience of other clients, nor is it indicative of future performance or success. The forward-looking statements are subject to a number of risks and uncertainties, in particular, the overall financial health of the securities industry, the strength of the healthcare sector of the U.S. economy and the municipal securities marketplace, the ability of the Company to underwrite and distribute securities, the market value of mutual fund portfolios and separate account portfolios advised by the Company, the volume of sales by its retail brokers, the outcome of pending litigation, and the ability to attract and retain qualified employees.
# # #