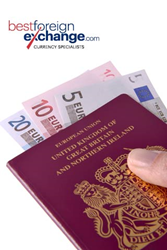 On a positive note, the Euro was valued at only £ 396.33 for Euro 500 at HestForeignExchange.com – the best deal in the market – on 24th February.
London,UK (PRWEB UK) 4 March 2016
BestForeignExchange.com, a London-based currency specialist, maintains a strong track record in administering travel money deals, amidst the decline of the Pound. The Pound Sterling is depreciating against major currencies; the dip in value was more than 1.7% in one day, reported The Guardian on 22nd February 2016. The report also suggests that the uncertainty and swing of political support surrounding Boris Johnson's Brexit decision is a contributing factor in the plunge of the Pound.
Similarly, on 25th February 2016, ExchangeRates.org.uk reported that the slide of the Pound and the volatility in the market is affecting travel money volumes, which travellers may experience when converting their Pound Sterling to foreign bank notes.
On a positive note, the Euro was valued at only £ 396.33 for Euro 500 – the best deal in the market – on 24th February. This earned BestForeignExchange.com additional recognition as the best travel money provider.
Trevor Samuel, Senior Manager at BestForeignExchange.com, stated: "We take great pride in our business by defining exchange rates and striving to offer best-in-market travel money deals for travellers. We will continue to offer the most competitive exchange rates despite adverse market conditions."
In addition to the Euro, the Dollar, and other major currencies, BestForeignExchange.com dominates the exchange rates market for more than 120 types of foreign bank notes.
The travel money service from BestForeignExchange.com is available at any of 11 stores in London or by Royal Mail next-day delivery service.
About BestForeignExchange.com:
Owned and operated by Thomas Exchange Global, BestForeignExchange.com offers the most competitive exchange rates in London and customers who reserve currencies online will be assured the same exchange rate until close of business on the particular day despite any adverse fluctuations. The company stocks the widest range of foreign currencies in London with more than 120 types of foreign bank notes. All foreign currency buy/sell transactions are free of any commission or charges.
BestForeignExchange.com also offers International Money Transfer Service where funds can be remitted to overseas bank accounts within one to two days. With commission free service for transfers over £10,000 backed by competitive exchange rates, customers are assured of a better deal and a substantial savings compared to banks and money brokers. Thomas Exchange Global branches are located at Strand, Embankment, Victoria Street, Victoria Place (Victoria rail Station), Liverpool Street, Hammersmith, Wormwood Street, Cannon Street, Canary Wharf, Hammersmith, High Street Kensington and Richmond.