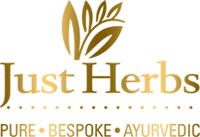 This affordable skin and body care line brings us the benefit of thousands of years of ancient Indian wisdom
(PRWEB) February 27, 2016
LC Beauty is set to feature Just Herbs, a plant and mineral based skin and body care product line on March 2nd and 3rd. Just Herbs' products are paraben and sulphate free and include deep cleansing lotions, moisturizing creams, gels, serums and oils for the face, body, and hair. These natural products will be featured in two shows on Wednesday, March 2 from 6 p.m. to 8 p.m. CT and Thursday, March 3 from 4 p.m. to 6 p.m. CT.
Just Herbs is based on plant and mineral ingredients that are from natural and or renewable resources, they are biodegradable. Just Herbs focuses exclusively on minerals and plant products and are formulated with plant waters. All the products from the Just Herbs collection are made with genuinely pure Ayurvedic ingredients that have incredible moisturizing properties for your skin as recorded in the ancient Vedic texts from the Indian sub-continent over thousands of years.
LC's Beauty Buyer Karen Wells says, "We are incredibly excited to bring this beauty collection to LC customers. This affordable skin and body care line brings us the benefit of thousands of years of ancient Indian wisdom. Just Herbs not only delivers results, it is natural, too!"
Just Herbs works hard to ensure that every ingredient in every bottle and jar of the product collection delivers lasting results naturally. Just Herbs is a luxurious and safe Ayurvedic skincare that works and here's why:

Free of harmful chemicals: Just Herbs products are free from petrochemicals, parabens, SLS/SLES PEG/PPG, Genetically modified ingredients(GMO) and other synthetic ingredients.
Wild-crafted Ingredients: Just Herbs use the highest possible concentration of and wild crafted (harvested from their natural or "wild" habitat), ingredients in every treatment, and use cold-pressed, plant oils as the base wherever possible.
Whole plants used: Just Herbs use only whole plant ingredients, which have not been altered from their natural state conforming to the ancient Ayurvedic texts. Just Herbs does not process the plant ingredients, which mean no bleach, deodorizing, refining, or gamma radiation.
No animal testing: Just Herbs ingredients and formulas are never tested on animals.
Cultivation: Just Herbs plants are grown in their ideal habitats, which allow them to thrive and their essences to reach peak potential
For more information on updates and specials, stay tuned to http://www.liquidationchannel.com/ or http://www.facebook.com/shoplctv.
For More Information Contact:
Carolina Sandoval
Marketing Specialist
512- 901-0621
carolina.sandoval(at)liquidationchannel(dot)com
About Liquidation Channel: Liquidation Channel (http://www.liquidationchannel.com) is an Omni-channel business comprised of a home shopping TV network, an ecommerce business, and an outside sales/wholesale segment. It is a global leader in direct sales of colored stones, diamonds, precious metals, lifestyle and beauty products, and a variety of luxury goods and innovative products. LC specializes in delivering Exceptional Quality, Exquisite Designs, and Outstanding Value, while providing a low-price guarantee on each of its products. The channel's unique jewelry is available online at LiquidationChannel.com and on DirecTV Channel 75 and 226, Dish Network Channel 274, Verizon FIOS Channel 159, ROKU, AT&T U-Verse 399 and 1399 (HD), Google Chromecast, Amazon Fire, and local cable channels.