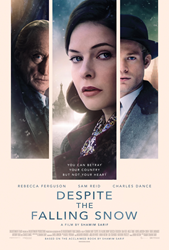 At a time when the low numbers of women directors, writers and producers is being noticed 'Despite the Falling Snow' provides a welcome change
(PRWEB UK) 29 February 2016
At a time when the low numbers of women directors, writers and producers is being noticed throughout the industry, 'Despite the Falling Snow' provides a welcome change. This is the third film that award winning female film director Shamim Sarif, has written and directed and the third time she has adapted one of her award winning literary novels to film.  The film is produced by Hanan Kattan, Sarif's female partner and co-founder of Enlightenment Productions. Shamim Sarif's novel of the same name was chosen as one of The Independent newspapers books of the year when it was first published in 2004 and is being released to tie in with the film by John Blake Publishers on April 7th.
Founded by a female producer and female director, Enlightenment Productions' aim has always been to provide a platform to nuture female talent in the film industry and 'Despite the Falling Snow' features strong female protagonists - with the two lead roles in the film played by rising star Rebecca Ferguson (Mission Impossible: Rogue Nation). Also starring are Charles Dance (Game of Thrones), Sam Reid (Belle) and Antje Traue (Man of Steel). Other contributions from accomplished women include a title song by music star Ella Henderson and score by Oscar winning composer Rachel Portman (Emma, Chocolate). Among the Executive Producers are two of the duo's long time collaborators, Katherine Priestley and Lisa Tchenguiz.
Oliver Jackson-Cohen (The Raven), Anthony Head (Buffy the Vampire Slayer) and Thure Lindhardt (Keep The Lights On) complete the cast and the film was edited by Masahiro Hirakubo (The Duchess, Trainspotting).
The movie offers a rare female perspective on the Cold War and marks the third feature collaboration between the duo. Their first film, 'I Can't Think Straight', became a cult success and won 11 awards. Their second, 'The World Unseen', premiered at Toronto International Film Festival and went on to garner 23 awards worldwide, including 11 South African Film & TV Awards (SAFTAs).
Known as an 'actor's director', Sarif has made a name drawing out nuanced performances from actresses in complex, leading roles that have traditionally been all too rare in the mainstream film world and that have inspired tens of thousands of fans to vocalise their support for her work via social media. Trailers and fan videos for Sarif's first two films have garnered over 100 million hits on YouTube alone.
'Despite the Falling Snow' Synopsis:
Moscow, 1959. Embroiled in a plot to steal secrets for the Americans at the height of the Cold War, Katya Grinkova (Rebecca Ferguson) finds herself torn between love and duty when she falls for her target, idealistic Soviet politician Alexander Ivanov (Sam Reid). As Alexander prepares for a diplomatic mission to the USA and the net closes around her, Katya must decide whether to sacrifice her love to protect him.
 
New York, 1992. Alexander Ivanov (Charles Dance) is still haunted by the disappearance of his beloved Katya after his forced defection from the U.S.S.R. After 30 years of uncertainty, a surprising discovery may finally help him discover the truth about her sacrifice.
Despite the Falling Snow is produced by Enlightenment Productions in association with SK Enlightenment Films Canada.
For further information please contact Premier PR:
Rupert Goodwin, Patrick Reed, Marine Monnier Online enquiries: Oliver Lavery
Tel: + 44 20 7292 8330
firstname.surname(at)premiercomms.com
 
Despite The Falling Snow is published by John Blake Publishing - for press information contact:
Tory Lyne Pirkis at Midas PR . Tel: + 44 20 7361 7860
tory(dot)lyne-pirkis(at)midaspr(dot)co(dot)uk