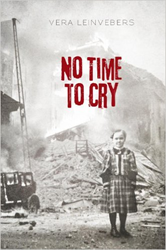 What happened is never over. But it is possible to find meaning and purpose in life and the world afterwards.
TORONTO, Ontario (PRWEB) February 29, 2016
Childhood experiences can significantly affect one's entire life.
In her memoir, piano instructor and performer Vera Leinvebers shares her story about a child caught in the middle of World War II in the Baltics, and how those events would intrude upon her consciousness throughout the rest of her life.
"I wrote the book because my feelings and voice had been bottled up since childhood," Leinvebers said. "I have found my voice again, and I want to share my story with the world."
In order to face her traumatic childhood memories, Leinvebers channels her experiences through the eyes of a young Latvian girl named Lara. The story, however, is very real, winding throughout Leinvebers' life from age 6 to present day.
A true testament to her survival, Leinvebers hopes to share how the harrowing ordeal shaped her personality today, and encourage readers to never give up faith in times of struggle.
"What happened is never over," Leinvebers said. "But it is possible to find meaning and purpose in life and the world afterwards."
For more information, visit http://veraleinvebersbook.com.
No Time to Cry
By Vera Leinvebers
ISBN: 978-1-4620-5844-0
Available in hardcover, softcover and e-book
Available on Amazon, Barnes & Noble and iUniverse
About the author
Vera Leinvebers was born in Latvia and began her first piano lessons at the age of five. She has gone on to perform for audiences across Europe and North America, including multiple appearances on radio and television. In addition to her memoir, Vera has also written poetry, short stories, film scripts, speeches and essays. She currently resides in Toronto, where she teaches piano lessons at her private studio and performs.
###
**FOR IMMEDIATE RELEASE**
For review copies or interview requests, contact:
Jennifer Uebelhack
317.602.7137
juebelhack(at)bohlsengroup(dot)com