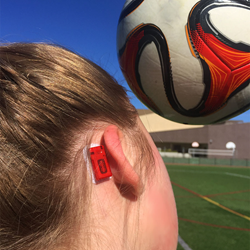 The X-Patch Pro enables an important shift in focus from trying to improve diagnostic tools for concussions after they happen, to modifying athletes' behavior
Cambridge, MA and Redwood City, CA (PRWEB) February 29, 2016
X2 Biosystems on Friday unveiled details of the company's next generation wearable head impact monitor at the 13th MIT Sloan Healthcare and Bio-Innovations Conference in Cambridge, MA.
Scheduled for commercial release in the second quarter of 2016, the X-Patch Pro replaces the original X-Patch wearable impact sensor introduced by X2 Biosystems in 2012. The X-Patch Pro is a smaller, lighter, and significantly more technologically advanced device that improves usability and performance for wearable impact sensors.
"We're excited about the launch of the X-Patch Pro because it enables an important shift in focus from trying to improve diagnostic tools for concussions after they happen, to modifying athletes' behavior in a way that significantly reduces the risks and incidence of concussion injuries happening in the first place," said X2 Biosystems CEO John Ralston.
The X-Patch Pro:

is a universal impact monitoring solution for any athletic activity
can be worn both as a skin-affixed sensor, or incorporated into a wide variety of athletic, military, and industrial protective gear
records head impacts and sends the data via Bluetooth to X2's PC, tablet, and smartphone Impact Management System (IMS) app
enables impacts to be instantly visualized, with automated analytics and reporting that support immediate action.
In 2015, X2's original X-Patch became the world's most widely deployed and tested wearable head impact monitoring device, used in a continually expanding range of athletic activities from football (youth, high school, collegiate, pro) to hockey, soccer, lacrosse, rugby, Australian Rules Football, baseball, field hockey, wrestling, boxing, Taekwondo, mixed martial arts, skiing and BMX cycling. The X-Patch is also being actively evaluated for use in military training applications.
Also in 2015, several landmark studies published by leading concussion researchers showed that safer training and playing techniques that incorporated the X-Patch achieved 30% to 70% reductions in the incidence of head impacts that can lead to concussion injuries.
As a result, market demand has grown quickly for a higher-volume, lower-cost version of the device. The X-Patch Pro meets this demand by incorporating a range of powerful new components and leveraging leading-edge Internet-of-Things (IoT) design-for-manufacturing expertise to increase overall performance while reducing both component and manufacturing costs.
At the MIT Sloan Healthcare and Bio-Innovations Conference, X2 also presented initial results from new initiatives to further evolve wearable impact sensors into advanced neuro-trauma dosimeters that can help to identify and monitor accumulating tissue injury and changes in structural brain connectivity before any concussion symptoms are diagnosed. These initiatives include:

Leveraging the company's database of over 5.5 million head impact records and a $120,000 award from the IBM Global Entrepreneur Program to develop advanced data analytics and machine learning algorithms for automated real-time head impact and injury risk classification.
Working with leading neuroimaging researchers to explore the combination of measured head impact biomechanics, computational simulations of the resulting energy deposition in the brain, and high-resolution imaging of time-evolving tissue injury and changes in structural brain connectivity.
"These are key next steps toward our goal of delivering the most effective and economically viable concussion safety solution for the tens of millions of young athletes who benefit in many important ways from participating in sporting activities, but at the same time are exposed to a wide variety of impact-related concussion risks," Ralston concluded.
-----------
X2 Biosystems (http://www.x2bio.com) X2 Biosystems merges wearable impact monitoring devices, neurocognitive assessment tools, wireless communications, and cloud data analytics to deliver the complete continuum of care in concussion management that athletic, medical, military, and industrial markets are now demanding in order to reduce the incidence, risks, and costs of head impacts and concussion injuries. X2 has offices in Redwood City, CA, and Seattle, WA.