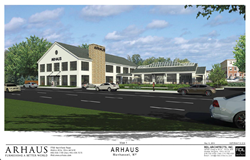 "We are so excited to be on Long Island and be able to repurpose this amazing historic building," says John Reed, Founder and Chairman of the Board of Arhaus
Cleveland, Ohio (PRWEB) February 26, 2016
Arhaus is bringing its handcrafted furnishings to Roslyn, New York. Friday, February 26, the retailer will open its doors to a freestanding building on the former site of Port Motors located at 15 Port Washington Blvd. The building is two stories with an attached orangery connected via a portico for a combined footprint of 19,750 square feet showcasing furniture and accessories for every style, every home.
This is the first Long Island location for Arhaus. "We are so excited to be on Long Island and be able to repurpose this amazing historic building," says John Reed, Founder and Chairman of the Board of the privately held company. He and his father opened their first store in 1986. This year, Arhaus celebrates a major milestone—30 years in the business. "Not only was the property the perfect location for us in the area, but the original building was rich in history and we wanted to preserve some of this to enhance the overall customer experience."
The building was stripped down to expose brick that dates back to the 1920s. "The brick was the exterior of an indoor tennis court on the Pratt estate on Long Island. After WWII and a shortage of steel in the U.S., the building was moved brick-by-brick to the 15 Port Washington Blvd property and used to build a showroom and service center for the Lincoln Mercury franchise owned by my father, Bernard Cohen and his business partner Mars Barron," says Michael Cohen. Arhaus is leasing the building from Cohen.
The building will be used to showcase Arhaus' home furnishings, while the newly attached orangery with a combination of French and English-inspired parterres will be used to merchandise the retailer's outdoor furnishings and seasonal décor.
The store in Roslyn will be the retailer's sixth location in the New York/New Jersey area. Arhaus opened a store in the city's chic Meatpacking District in 2011, has a store in Rochester, NY at the newly developed Armory and three store locations in New Jersey, including Freehold, Hackensack and Marlton, NJ.
At the time of opening, the retailer will have 61 store locations in the U.S. The home furnishings retailer also sells at its ecommerce site.
Stores range from 13,000 to 35,000 square feet and are beautifully outfitted in the retailer's one-of-a-kind designs and timeless classics including: sofas, sectionals and chairs wrapped in the finest leathers and custom order fabrics; dining tables and chairs for indoors and out; outdoor upholstery and accents; drapery; antiques and replicas; bedroom furniture and private label bedding collections; pillows and throws; library and office solutions; wall units and an assortment of media centers for hi-tech gadgets; rugs; tabletop; lighting; and a large assortment of seasonal accessories.
Interiors traditionally boast such architectural details as skylights, river rock fireplaces, hand-painted murals and a combination of distressed oak and stone flooring, as well as signature display elements like the Arhaus "chair wall" showcasing dining seats of every size and shape. "Our build-out is like no other in the industry," says Reed. "We invest a great deal of time creating an environment that not only appeals to the shopper, but maintains our trademark look and feel."
The Arhaus ethos is all about workmanship and has been since its founding in 1986.
Going back to the beginning
It all started with a single store in Cleveland's historic Flats District; the name a combination of Denmark's port city Aarhus (pronounced "ar-hoos") and the German spelling for house ("haus"). "We drove state-by-state sourcing materials and products, tracking inventory by hand and making personal deliveries," says Reed. "We were committed to finding good design and working directly with the artisan, which was something that wasn't being done at the time."
Today, Arhaus is a nationally known lifestyle retailer and the company continues to work directly with artisans all over the world—some dating back to that first store location with collections signature to the business. And while all of the retailer's upholstery is hand-assembled in North Carolina, more than 60 percent of the overall assortment, across categories, is made in America and this number is growing, according to Reed.
He attributes his company's success and continued expansion to the artisanal assortment of product made by independent craftsmen all over the world and exclusive to Arhaus. He also credits Arhaus' unique footprint—designed to 'ooh and ah' customers into mimicking the looks in their own home. "We offer the right combination of designs that Americans are comfortable living with and decorating their homes with, and we merchandise them in the kind of environment that our customers not only feel inspired by, but comfortable shopping in," says Reed.
Making the merchandise
Details like hand-painted and distressed finishes, dovetail joinery, hand-hammered copper and eight-way hand-tied upholstery set Arhaus' merchandise apart from other home furnishing stores and make the retailer a destination in every market.
"We travel around the world to find unique pieces, pieces that often times inspire original designs or we work with artisans to remake and we call these reproductions Relics," says Chief Creative Officer Gary Babcock. "We also buy from markets in Paris and even from village shops in Indonesia and bring collections home to share with our customers."
Earth-conscious since those early years in business too, Arhaus remains committed to never using wood from endangered rainforests in the making of its home goods. "Whenever possible, we rely on renewable and recycled materials to make anything from a single bench, to a glass vase," says Reed.
###
Arhaus: Arhaus offers a compelling, inspiration-filled environment—stores average 16,000+ sq. ft.—with one-of-a-kind handcrafted home furnishings reflective of a distinct global point-of-view. Arhaus collaborates with skilled artisans here in the states and all over the world who craft its many exclusive collections, which are complemented by timeless upholstered pieces (slipcovered, leather and custom-order seating), dining tables and chairs, bedroom, outdoor and office furniture, seasonally-inspired accessories, private label bedding, throws and accents, tableware and more. Made of the world's finest materials (with attention to sustainability), products are presented in dramatic lifestyle settings infused with original architectural elements imported from Parisian flea markets and Tuscan villas, hand-painted murals, Arhaus Relics, or repurposed antiques, and the freshest botanicals sourced locally in each store market. Arhaus is privately owned and operated. The national home furnishings retailer was founded in 1986 by father and son, Jack and John Reed, and is headquartered in Cleveland. For more information, call 866.427.4287 or visit arhaus.com.
"Furnishing a better world." This is our philosophy; it dates back to 1986 when father and son, Jack and John Reed, opened the first store location in Cleveland and vowed never to use wood from the world's endangered rainforests in the making of an Arhaus design. Today, nearly 50 percent of our collections are made of recycled material—everything from glass, to metals like copper and wood cast off from far off lands. To ensure our values are upheld, we work with artisans who share our earth-conscious values and use renewable and recycled materials when crafting pieces for our stores. Sustainably sourced timbers like teak, bamboo and mango—grown for the sole purpose of building—are used. And because we love a good story, we use reclaimed materials whenever possible, namely wood from countries tearing down dilapidated barns, shipyards and rural structures, and we refurbish one-of-a-kind antiques—we call these pieces Relics.