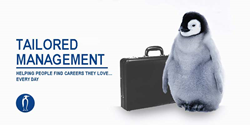 We are incredibly pleased with our success, and couldn't be happier to be recognized for our hard work
Columbus, Oh (PRWEB) March 01, 2016
Staffing and recruiting company, Tailored Management (SBL Enterprises, LLC), proudly announces that they've been named among the top 50 fastest growing companies by Columbus Business First.
In today's digital age, the need for a centralized, dedicated recruiting portal is higher than ever in order for the most qualified job candidates to be paired with their ideal positions. To provide the most direct avenue to success for both companies and employees, Tailored Management has created their Centralized Recruiting Hub, which pairs candidates with numerous Fortune 500 companies around the globe to the mutual benefit of both.
As opposed to traditional "employment agencies," which merely seek to provide warm bodies for open roles, Tailored takes pride in being a true staffing and recruiting company by providing every client with a dedicated account manager and accompanying recruiting team determined to provide the perfectly tailored candidate for each role.
Since its creation Tailored Management has seen record growth year-over-year, and has more than doubled in size in the last year alone. This success has earned the respect and appreciation of their clients, who nominated them to receive Columbus Business First's Fast 50 award. This award recognizes the fastest growing companies across all industries in the central Ohio area.
"We are incredibly pleased with our success, and couldn't be happier to be recognized for our hard work," said Senior Recruiter Chris Dunworth. "Since our founding, we've always believed that the people business is personal, and we strive to live by that motto by taking a personal interest in our clients on both sides of the hiring desk. To be able to grow as rapidly as we have means we're doing the right things in the right ways."
With unparalleled success in matching thousands of candidates in positions with thousands of companies worldwide, Tailored Management proves their capabilities exceed expectations. By keeping the people business personal, and dedicating themselves to staffing only the best roles with the best candidates, Tailored Management is poised to continue their explosive growth well into the future.