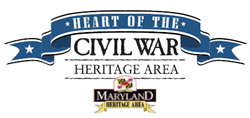 (PRWEB) February 29, 2016
The Heart of the Civil War Heritage Area (HCWHA) will host a "webinar watch and talk" event on Wednesday, March 9 at the Frederick Visitor Center in conjunction with the American Alliance of Museums. The session will focus on tourism and changing demographic trends in the cultural heritage field. The Frederick event is one of six taking place across the country that day, along with programs in Atlanta, Austin, Cleveland, Rochester, and New York City.
The program, which is free and open to the public, will begin at 1:30 PM with a half-hour dedicated to networking. A webinar, "Attracting the Tourist Audience: Local, Regional, Global," will run from 2:00-3:30 PM and will feature Melissa Cherry, senior vice president of marketing and cultural tourism, Choose Chicago; Kate Pittman, director of operations, Virginia Museum of Contemporary Art, Virginia Beach, VA; and Daniel Summers, Jr., director of marketing, Center for Puppetry, Atlanta, GA. The day will conclude with a discussion facilitated by Dan Spedden, President of Visit Hagerstown.
The Frederick Visitor Center is located at 151 South East Street. Space is limited, and advance registration is encouraged. RSVP online. Attendees should plan to park in the East All Saints Street Parking Garage or on the street.
HCWHA is an independent 501c3 nonprofit organization that is one of 13 certified heritage areas in Maryland, encompassing parts of Carroll, Frederick and Washington counties. Its mission is to promote the stewardship of our historic, cultural, and natural Civil War resources; encourage superior visitor experiences; and stimulate tourism, economic prosperity, and educational development, thereby improving the quality of life in our community for the benefit of both residents and visitors.