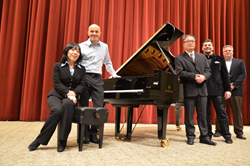 "As a result of the collaboration . . . Loyola now has a CFX concert grand piano which certainly puts a stamp on the development of our music program," said Anthony Molinaro, director of music, Loyola University Chicago.
CHICAGO (PRWEB) February 26, 2016
Loyola University Chicago recently purchased a Yamaha CFX concert grand piano, which Loyola's Director of Music Anthony Molinaro described as the "crown jewel" of the program and the missing piece in Loyola's ongoing development of its music program over the past seven years.
"Our music program has developed tremendously since 2008, with the hiring of myself, five other full-time faculty and numerous part-time faculty, the renovation of Mundelein Center and the purchase of new instruments," Molinaro explained. "But there was something missing because we didn't have a magnificent concert grand piano until we purchased the CFX."
The nine-foot Yamaha CFX concert grand actually played a key role in how Loyola raised the money to purchase the piano. Molinaro, a winner of the prestigious Naumburg International Piano Competition and considered one of the most versatile pianists of his generation, performed a concert on the first CFX in the U.S. at Loyola in 2010, followed in 2013 by two sold-out concerts specifically to raise money to purchase the grand piano for the university.
"A unique aspect of the story is that the local Yamaha dealership, Grand Piano Haus in Skokie, purchased a CFX with the intention that Loyola could use it for these fundraising concerts, even though we could not promise that we could acquire it due to lack of resources at the time," Molinaro said. "As a result of the collaboration between Loyola, Yamaha and Grand Piano Haus, coupled with the generosity of the Jesuit community and other donors, Loyola now has a CFX concert grand piano which certainly puts a stamp on the development of our music program."
After Loyola completed a massive renovation of the historic 80-year-old Mundelein Center for Fine and Performing Arts, in 2012, the music program housed in the center began purchasing new instruments for Mundelein's large auditorium, theatres and classrooms. Among the new instruments were about a dozen Yamaha uprights and smaller grand acoustic pianos, as well as a Disklavier reproducing piano and a Clavinova digital piano lab.
Molinaro described the Disklavier as a game-changer for Loyola's music program, since through the groundbreaking technology and unique capabilities of the Disklavier, students can interactively connect with teachers and top professional musicians without the two parties having to be in the same city or country, much less the same room. The playback capabilities of a Disklavier also broaden the opportunities to teach and learn like never before. In simple terms, this enables a pianist to perform live in one location, while their exact keystrokes and pedal movements are transmitted in real time to the other instrument located anywhere else in the world, along with video.
Tapping into the myriad opportunities afforded to students and music programs through the Yamaha Disklavier Education Network, or DEN, a major initiative that provides crucial tools for schools and educators who integrate the company's Disklavier reproducing piano into their curriculum, is something that Molinaro hopes to pursue at Loyola.   
Molinaro said that he and other music faculty members at Loyola are as eager as music students to get their hands on the university's new CFX now that the spring semester is underway. "To say that everyone in the Loyola music program is thrilled to have this wonderful concert grand piano is an understatement," he said.
The Jesuit community contributed the majority of the funds to purchase the CFX. Molinaro and other Loyola officials also noted that many other individuals generously donated to the campaign to buy the concert grand.
An inaugural concert featuring Loyola's new Yamaha CFX concert grand piano will be held on Monday, April 11 for the Jesuit community and others who donated toward the purchase.
-END-
About Loyola University Chicago
Founded in 1870, Loyola University Chicago is one of the nation's largest Jesuit, Catholic universities, with nearly 16,500 students. More than 11,000 undergraduates call Loyola home. The University has four campuses: three in the greater Chicago area and one in Rome, Italy, as well as course locations in Beijing, China; Saigon-Ho Chi Minh City, Vietnam; Vernon Hills, Illinois (Cuneo Mansion and Gardens); and a Retreat and Ecology Campus in Woodstock, Illinois. The University features 11 schools and colleges, including the Quinlan School of Business, Marcella Niehoff School of Nursing, Stritch School of Medicine, College of Arts and Sciences, School of Communication, School of Continuing and Professional Studies, School of Education, School of Law, School of Social Work, Graduate School, and Arrupe College of Loyola University Chicago. Ranked a top 100 national university by U.S. News & World Report, Loyola is also among a select group of universities recognized for community service and engagement by prestigious national organizations like the Carnegie Foundation and the Corporation for National and Community Service. To learn more about Loyola, visit LUC.edu, Facebook.com/LoyolaChicago, or follow on Twitter via @LoyolaChicago or @LoyolaNewsroom.
About Yamaha
Yamaha Corporation of America (YCA) is one of the largest subsidiaries of Yamaha Corporation, Japan and offers a full line of award-winning musical instruments, sound reinforcement, commercial installation and home entertainment products to the U.S. market. Products include: Yamaha acoustic, digital and hybrid pianos, portable keyboards, guitars, acoustic and electronic drums, band and orchestral instruments, marching percussion products, synthesizers, professional digital and analog audio equipment, Steinberg recording products and NEXO commercial audio products, as well as AV receivers, amplifiers, MusicCast wireless multiroom audio systems, Blu-ray/CD players, earphones, headphones, home-theater-in-a-box systems, sound bars and its exclusive line of Digital Sound Projectors. YCA markets innovative, finely crafted technology and entertainment products and musical instruments targeted to the hobbyist, education, worship, music, professional audio installation and consumer markets.