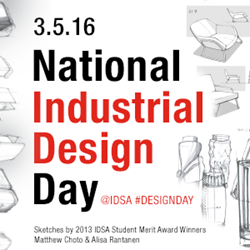 Design now has the power and gravitas to affect real change. Industrial design matters as an important part of a much larger ecosystem that's capable of having a profound impact on people's lives.
Herndon, VA (PRWEB) March 03, 2016
The Industrial Designers Society of America (IDSA) is celebrating National Industrial Design Day on March 5, 2016 by asking, "Why does ID matter to you?" Join the conversation on @IDSA #DesignDay on Twitter, Facebook and LinkedIn.
"Design now has the power and gravitas to affect real change," says IDSA Board of Directors Chair John Barratt, president and CEO of legendary design consultancy TEAGUE. "Industrial design matters as an important part of a much larger ecosystem that's capable of having a profound impact on people's lives."
March 5, 2015 was entered into the U.S. Congressional Record as the first National Industrial Design Day when U.S. Rep. Gerald E. Connolly declared that industrial designers "improve our lives in every way and are worthy of our recognition." The day marked the 50th anniversary of the founding of IDSA, which is headquartered in Herndon, VA in Connolly's 11th Congressional District just outside Washington, D.C.
On March 1, 2016, at his Capitol Hill office, Connolly was honored with the IDSA Special Award, which recognizes organizations and individuals for notable results; relative and innovative concepts; and long-term benefits to the industrial design profession, its education function and society at large. Connolly commends IDSA "for being an instrumental force in the growth and expansion" of industrial design.
In the United States, product design and related services generate billions of dollars in sales and the number of U.S.-awarded design patents has reached an all-time high. "The economic impact of this industry helps fuel our nation's economy," says Connolly.
The U.S. Patent Office first recognized the term "industrial design" in 1913. The profession attracted the attention of the American public in 1927 at the Exposition of Art in Trade in New York City, with the U.S. government hailing the craft as an important "modern movement."
Industrial designers envision the products that fill homes, offices, hospitals, schools and roads—and serve diverse fields ranging from the environment to entertainment; from social impact to service; from communication to recreation. They work in tandem with engineering, manufacturing, marketing and management leaders to create countless innovations used every day such as computers, mobile phones, music players, appliances, GPS, furniture, child safety seats and surgical equipment.
IDSA has grown from 600 members in 1950—to thousands of members in more than two dozen countries today. The Society sponsors the annual International Design Excellence Awards (IDEA®) (#IDSAIDEA)—the world's most prestigious and rigorous design competition—which is open for entry until 5pm EST, April 7, 2016. For the first time, IDEA Gold and Silver winners will be unveiled in a ceremony and gala at The Henry Ford Museum in Dearborn, MI. The events will be held at the iconic site on August 17, 2016.
"IDEA, which is marking its 36th year, has an incredible legacy of establishing the best in international design," says IDEA 2016 Jury Chair Cameron Campbell, IDSA. "The jurors are some of the most recognized designers today and come from diverse disciplines, allowing them to look at the solutions entered with multiple perspectives across all the categories."
Annually, IDSA hosts several dynamic events bringing together some of the biggest names and brightest minds in product design and related fields. An Education Symposium and International Conference (#IDSADetroit16) with the theme, Making Things Happen, will be held this year from August 17-20 at the Detroit Marriott at the Renaissance Center. Five, coast-to-coast District Design Conferences (#CDDC16 #WDDC16 #SDDC16 #MWDDC16 #NEDDC16) are scheduled in April with registration open now. A Medical Design Conference is set for this fall.
"Designers are driven to make things happen. We are the hand that introduces the future to the present—all while striving to benefit people, community and industry," says International Conference Chair Sooshin Choi, IDSA, provost and vice president for academic affairs at the College for Creative Studies in Detroit. "As industrial designers, we play a critical role in advancing the satisfaction of life through experiences, social innovations and enjoyable services."
IDSA publishes INNOVATION magazine online and in print. The latest issue features 50 Notable IDSA Members, 35 Years of IDEA Winners and 50 Memorable Moments in IDSA History. IDSA Ambassadors and INsights support industrial design with research, thought leadership and outreach.
For more information, log on to idsa.org or call 703-707-6000.