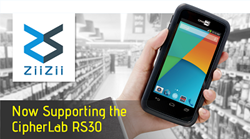 The rugged design, reliability and ease of use make this an outstanding device which will benefit a large number of ZiiZii users.
Plano, TX (PRWEB) February 29, 2016
CipherLab, a leading innovator in Automated Identification and Data Capture (AIDC) for the retail, warehouse, and distribution industries announces today that its Android Touch Computer, the RS30, is certified for implementation with the ZiiZii order entry solution.
CipherLab is excited to announce that we have partnered with Ziiware in implementing the RS30 terminal for the ZiiZii order entry solution.
ZiiZii is the easiest and most cost-effective method of remote order entry solution for wholesale distributors. It provides wholesales distributor's customers with an easy and convenient way of ordering.
"We are excited that Ziiware is offering the CipherLab RS30 as a one-handed ordering terminal for all of their current and future ZiiZii users," says Luis Wu, General Manager of CipherLab USA. "The rugged design, reliability and ease of use make this an outstanding device which will benefit a large number of ZiiZii users."
CipherLab's RS30 series touch mobile computer is a rugged smartphone that allows users to perform at a high level with minimal training. Its Android 4.4 OS paired with a 4.7 inch touch screen ensures that the user interface is as familiar as a personal smartphone. The touch screen is composed of a Corning Gorilla Glass 3 panel that can take vigorous tapping as well as latex glove touches. Seamless communication and collaboration among crew is achieved through HSPA+ and finely tuned 802.11 b/g/n. The RS30 also includes versatile industrial barcode reader options and Near Field Communication (NFC) to ensure top productivity. These features are ultimately protected with an industrial design which is proven to sustain accidental drops and water splashes. With the RS30, you can maximize your investments and perform with confidence.
For more details and specifications regarding CipherLab's RS30 Android touch computer or request for a free demo, please send an email to NASales(at)cipherlab(dot)com or contact our office at 888-300-9779.
About CipherLab
CipherLab is a global leader in the design, manufacture, and marketing of Automatic Identification and Data Capture/Collection products and systems. The company's mobile computers and scanners are integrated into the networks of some of the world's best known logistics, retail, distribution, government installations, and healthcare companies, helping them run more efficiently and effectively onsite and on the road. CipherLab USA is headquartered in Plano, TX. For more information, please visit http://www.cipherlab.com or like us at http://www.facebook.com/CipherlabUsa.