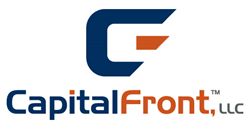 Philadelphia, PA (PRWEB) February 29, 2016
A new Philadelphia based company (Conshohocken, PA) is changing the landscape for businesses in need of working capital. CapitalFront, LLC brings the credibility and stability of institutional lending to small and middle market businesses.
Founded by two successful Philadelphia-area executives with deep roots in financial services, risk management, and technology, CapitalFront offers independent business owners nationwide a comprehensive selection of financial products, along with a client-centered approach previously lacking in the business lending space.
"Until now, small business owners in need of a loan have been faced with either large institutional lenders who just aren't interested in companies their size, or unsophisticated non-bank lenders who don't really understand their business," said Brian Simon, cofounder and CEO of CapitalFront.
CapitalFront seeks to fill that gap in the market, providing fast and flexible access to working capital for independent businesses nationwide, with most funding available within three days of approval. The company brings a customer-first mindset to small business lending, viewing its clients as long-term partners and taking the time to help them understand their options and find the solution best suited to their business needs.
"We're passionate about helping businesses fund their growth and providing a positive experience for business owners who may be unbankable or who need working capital faster than another lender can provide," said Simon. "We take the long view and the time to understand each individual business's characteristics and requirements. We succeed when our clients succeed, so we want to help them understand which options will best move them toward their business goals and ensure their success."
Products available to CapitalFront customers include fixed rate term solutions, merchant cash advances, receivable financing, factoring, and SBA loans. By offering such a wide range of programs, many of which are financed through private capital, CapitalFront is able to both move quickly and meet the diverse needs of a growing market segment that has long been underserved.
"Through our own experiences as entrepreneurs and investors, we saw a need for sophisticated financing options geared toward independent businesses, sole proprietors, LLCs, and other owner-operated companies whose needs are not being met by bigger institutional lenders," said Joe Greco, cofounder and chairman of CapitalFront. "We strive to give these business owners the opportunity to succeed."
About CapitalFront
CapitalFront, LLC, a leader in small business lending, was launched in November 2015 to create an easy, accessible, and streamlined process for small and mid-size businesses to fund their growth. With roots in both entrepreneurship and institutional lending, CapitalFront brings a comprehensive range of lending options to independent business owners underserved by the commercial lending market. CapitalFront is headquartered in Conshohocken, PA, and serves clients nationwide. More information is available at http://www.capitalfront.com.
About the Management Team
Brian Simon, cofounder and CEO of CapitalFront, is a 20-year veteran of the lending industry and a former member of both the Fannie Mae and Freddie Mac advisory boards. He has held C-level positions at three of the largest non-bank mortgage companies in the United States and helped build these organizations from regional players into national industry powerhouses. Throughout his career, he has led significant M&A transactions and has also been responsible for whole loan trading, hedging and securitization, and a wide variety of structured financing activities.
Joe Greco, CapitalFront chairman and cofounder, is a lifelong entrepreneur who founded Valley Forge based revenue cycle technology company PSC Info Group (now RevSpring). PSC was twice recognized by Inc. Magazine as one of America's 500 fastest growing private companies. Greco is now Chairman of the Board of RevSpring. He also is the founder and Chairman of Thrivest Holdings, LLC, a leading provider of financial solutions in the legal and specialty funding sectors.