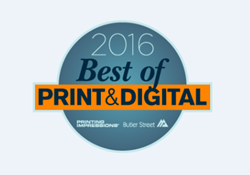 "This honor proves our clients' success is a differentiating factor for SupplyLogic."
New York (PRWEB) March 03, 2016
SupplyLogic, a leading Marketing Procurement partner for print, promotions and digital, has been named a winner of the industry's 2016 Best of Print & Digital™ award program.
The first annual program identified which companies provide the highest service delivery to their customers through Butler Street Research's independent survey of the print and digital industry. Only the very top companies in the industry were able to achieve this distinct honor, and SupplyLogic is honored to receive this award.
"This honor proves our clients' success is a differentiating factor for SupplyLogic," said Founder and CEO Kevin Sherlock. "It means a great deal to us because our clients did the voting. They are the reason we get up in the morning, and we will redouble our efforts in gratitude."
The rapidly growing private US company recently signed multi-year service contracts with National Vision Inc. and Asurion. It works closely with leading Private Equity firms to greatly improve the efficiency, agility and brand consistency of national brands, with a specialty in the Retail, Consumer Packaged Goods, Financial Services and Heath Insurance sectors. Unlike many others, the company typically places subject matter experts on-site at its clients' headquarters, supporting them from its analytics operations in Chicago.
"Companies get paid to say how good they are, customers do not. Winning the 2016 Best of Print & Digital Award™ clearly shows that these companies represent the elite of industry through the eyes of their customers," said Mike Jacoutot, Butler Street's founder and managing partner. "There is no better testament of a great company than customer loyalty."
About SupplyLogic
SupplyLogic, a privately held firm based in New York and Chicago, specializes in the execution of corporate marketing strategy across print, promotional and digital channels. Founded in 2004, the company's managed service model has the unique ability to deliver up to 45 percent reduction in costs through a combination of on-site resources, process optimization, strategic sourcing expertise and automation. For more information about SupplyLogic, please visit http://www.supplylogic.com
About Butler Street
Butler Street, a leading provider of client loyalty research and retention programs across the print industry, in conjunction with NAPCO Media, Printing Impressions and Print+Promo, launched the Best of Print & Digital Program™ to recognize those companies with the highest customer loyalty in the industry. Butler Street specializes in helping companies and their people grow and delivers lasting results in the two most challenging areas that companies face: client development and talent development. For more information: http://www.bestofprintanddigital.com.
A video of SupplyLogic President and COO Frank J. Olivieri discussing the program behind the company's use of loyalty metrics can be viewed at this address: http://bit.ly/20X7Gjc.