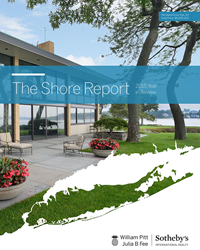 Fairfield County, Conn. and Westchester County, N.Y. (PRWEB) February 26, 2016
A report detailing market results for high-end Long Island Sound-front sales in Westchester County, N.Y. and Fairfield County, Conn. for the calendar year of 2015 has just been released by William Pitt and Julia B. Fee Sotheby's International Realty, the company announced today.
The report analyzes the question of how the waterfront segment has performed in the face of overall market improvements in recent years, which the company has detailed in its regular quarterly Market Watch reports. The report states that in Fairfield and Westchester County's upper end shorefront housing markets, comprising direct Long Island Sound-front single-family homes priced over $1 million, both unit sales and dollar volume experienced year over year increases from 2014 to 2015.
The company stated that it believes one of the major factors contributing to the surge in waterfront activity is the effect of changes in both flood and homeowner insurance, including the Homeowner Flood Insurance Affordability Act of 2014, which has made flood insurance easier to obtain for most buyers. While a previous bill had removed subsidized insurance rates for older waterfront homes, the new bill restores those earlier discounted rates, while also reinstating the ability for a seller to sign over an insurance policy with its current rate to a buyer. In addition, a recent homeowner insurance update has ensured that homes no longer need to meet former mitigation requirements, from storm shutters and pre-drilled holes for shutters to impact-resistant glass, in order to qualify for insurance.
In Westchester County's shoreline markets of Rye, Larchmont, Mamaroneck and New Rochelle, sales dollar volume grew by 14.6% from 2014 to 2015, largely driven by a substantial 90% increase in volume in Rye. Unit sales were approximately even year over year in each of these towns. In the Fairfield County shoreline markets served by the firm, including Stamford, Darien, Norwalk, Westport and Fairfield, an overall 35.9% increase in sales volume and 19.1% increase in units occurred, though the results changed to smaller overall increases of 11.4% in volume and 3.9% in units once Greenwich was factored into the data. The report considered Greenwich separately from the other towns, noting that the market is a significantly different and larger one than other areas in the region, and that it saw a decline in shorefront activity in 2015.
"Waterfront is a unique segment of the market, especially considering the weather-related challenges and flood insurance issues that buyers must take into account. So we are very happy to report that waterfront is just as active as the rest of the real estate market," said Paul Breunich, President and Chief Executive Officer of William Pitt and Julia B. Fee Sotheby's International Realty. "The ongoing increase in waterfront sales activity is exciting news for our areas, and we will continue to watch this sector carefully throughout 2016."
The Shore Report is available to view online here.
###
About William Pitt and Julia B. Fee Sotheby's International Realty
Founded in 1949, William Pitt and Julia B. Fee Sotheby's International Realty manages a $3.9-billion portfolio with more than 1,000 sales associates in 28 brokerages spanning Connecticut, Massachusetts, and Westchester County, New York. William Pitt and Julia B. Fee Sotheby's International Realty is the largest Sotheby's International Realty(R) affiliate globally and the 28th-largest real estate company by sales volume in the United States. A full-service real estate firm headquartered in Stamford, Connecticut, William Pitt and Julia B. Fee Sotheby's International Realty provides ancillary services including commercial services through its affiliation with Building and Land Technology, a second-generation development company based in Stamford, Connecticut; William Pitt Insurance Services; and an award-winning global relocation division. For more information, visit the website at williampitt.com.
Sotheby's International Realty's worldwide network includes approximately 18,000 sales associates located in approximately 825 offices throughout 61 countries and territories.