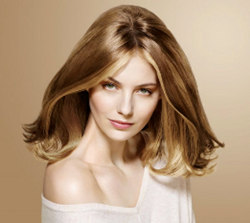 Igora Royal Nude Tones are definitely a must-have! The various shades of the 'Nude' tones offer a soft, subtle, simple sophistication.
(PRWEB) February 29, 2016
Everyone is going nude! The nude trend; with its powdery, sandy and earthy tones has taken the fashion and beauty world by storm; embodying both elegance and restraint. Stripped back to the essentials, yet so thrillingly multifaceted: the new nude trend color makes its mark with lightness and grace; as a fashion color, a beauty shade, and now as a hair color. Schwarzkopf Professional has drawn inspiration from this subtle, authentic color trend, providing hair stylists with the opportunity to create refreshing looks for their clients in popular nude tones. The high-coverage colorants make the nude experience accessible for everyone, regardless of their natural hair color.
In April 2016, Schwarzkopf Professional will be expanding its Igora Royal product line with the launch of Igora Royal Nude Tones. Inspired by the global fashion "nude" runway trend, the line brings a dash of fashion to every color portfolio. The line is designed to highlight a client's natural beauty, while in-salon services provide techniques for creating different nude looks. Igora Royal Nude Tones is the first offering of nude tones for hair, and provides hairstylists with six delicately earthy, powdery tones with color effects that are true to Igora's 'high definition' results, that can be used to create effortlessly refined nude looks; ranging from weightless blonde to intense brunette.
The technology is a unique fusion of pure beiges with rosy undertones, for a dose of style, and a raw, yet elegant edge. The tones represent the new generation of multi-natural beiges, and cover levels 4 to 12, and provide 70% white hair coverage. The sophisticated, yet commercial shades can work for every client, while providing an illuminated, natural look.
On Igora Royal Nude Tones, Schwarzkopf Professional North American Color Director, Rossa Jurenas states:
Igora Royal Nude Tones are definitely a must-have! The various shades of the 'Nude' tones offer a soft, subtle, simple sophistication. Unlike anything else in the existing portfolio, Igora Royal Nudes creates a minimalistic, powdery hue; that takes tailored tone-on-tone direction to a new level.
In-Salon Services Include:
Two dedicated in-salon techniques (Soft Grading, and Pure Contouring) combine style, and functionality for low maintenance looks that illuminate natural beauty.
Soft Grading
With the soft grading technique, stylists can create enchanting multi-tonal color gradients by combining several nude tones together for a sophisticated look.
Pure Contouring
Pure contouring adds minimal, light color accents to the hair around the face. The colorants beautify the color of the hair, while flattering the skin tone.
Igora Royal Nude Tones, and in-salon services will be available in Schwarzkopf Professional partner salons beginning April 2016.
About Schwarzkopf Professional
Schwarzkopf Professional, part of the Beauty Care business unit of Henkel Consumer Goods, has been a leader in the salon industry for the past 116 years. Established as a global leading supplier in the hairdressing business; Schwarzkopf Professional offers brands and technologies that make people's lives easier, better and more beautiful. Based on a professional partnership with the hairdresser, Schwarzkopf Professional focuses on providing innovative concepts and services, which match the needs of their International salon clientele.
Schwarzkopf Professional is present in over 80 countries. Well known International brands include; BLONDME (blonde color, care and styling), leading brand Igora Royal (color), Essensity (color), BC Bonacure (care), and OSiS+ (styling). Schwarzkopf Professional's mission statement, "Together. A Passion For Hair" is their point of difference, and is the unique pulse which unites their business with their salons and consumers. Their daily goal is to bring that passion for hair to life.
Henkel Consumer Goods operates worldwide, with leading brands and technologies in three business areas; Laundry & Home Care, Beauty Care and Adhesive Technologies. Founded in 1876, the company has some 47,000 employees and holds leading global market positions in both the consumer and industrial businesses, with well-known brands such as; Persil, Schwarzkopf, and Loctite.
For additional information, please visit our website at Schwarzkopf-ProfessionalUSA.com. For up to the minute news on all things Schwarzkopf Professional, follow @SchwarzkopfUSA on Instagram and Twitter, and also connect with us on Facebook at: Facebook.com/SchwarzkopfProfessionalUSA.