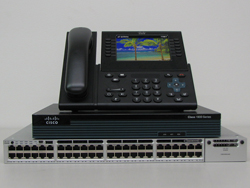 (PRWEB) March 01, 2016
P3 Systems, a reseller of Refurbished & New Surplus Networking & Datacenter hardware, has enhanced their focus and efforts on improving IT services in major markets throughout the United States. P3 is expanding their reach to businesses in South Florida, providing the opportunity to both buy and sell network hardware at premium rates.
P3 Systems participates in the "Cisco Excess Used Product Offering".
Cisco Capital acquires excess used product in a range of product categories such as switching, telephony, routing, wireless, security telepresence, and many more. Cisco created the Cisco Excess Used Product Offering to sell such product through a select group of re-sellers titled "Excess Customers," such as P3 Systems.
When purchasing Cisco Excess Used Product through P3 Systems, many products will ship in their original Cisco packaging. You are further assured products sourced:
1) Are original Cisco manufactured equipment returned to Cisco from end of lease contracts, cancelled orders and manufacturing overruns
2) Will identify themselves with a "WS" suffix and may bear Cisco Wholesale Refurbished labels
3) Have a valid version of the IOS loaded and are relicensed by Cisco (including European rights of use)
4) Are fully functional but may include minor cosmetic imperfections (this is rare)
5) Are eligible for Smart Net Total Care (SNTC) support purchased through a Cisco Authorized Partner
Personal Sales - Not just a number
With the majority of P3's inventory housed at its West-coast and North-East U.S. facilities, it made perfect sense for P3 to then expand into the southeast market, to locations with a high demand for steady and reliable sources for IT infrastructure. Now in Naples Florida, P3 continues to provide exceptional products and services, while adding a unique one-on-one interaction with their current and prospective customers. Companies in SW Florida (Tampa, Miami, Fort Lauderdale) and surrounding communities now have a local vendor from whom to receive custom quotes on network hardware at substantial discounted pricing.
Asset Recovery
To further enhance the customer service experience in Florida, P3 continues to promote their Asset Recovery Program, a service in which they buy-back network hardware and data center equipment no longer being used. Florida-based companies can contact P3 and a local sales representative will assess a valuation of the network equipment, providing quotes usually within one business day. Companies with product in volume can request an on-site visit, where a P3 representative can come to inspect and assess the decommissioned network hardware.
About P3 Systems
P3 Systems was founded in 2007 by CEO Frank Pecora, and is privately held. P3 Systems has been recognized by the Rochester (N.Y.) Business Alliance as one of the "Rochester Top 100" fastest growing companies in the region, for the past 4 years in a row. For a full list of products and services offered, visit P3 Systems online at http://www.p3online.com.