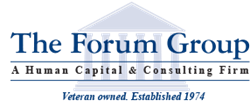 As experts in staffing, we truly believe events like these are important to improve office morale and overall job satisfaction, while helping managers improve their employee retention rates
New York, NY (PRWEB) February 28, 2016
On Friday, Feb. 12, The Forum Group treated their 100 employees to the first Annual Forum Wellness Day, an event designed to boost morale and promote healthy lifestyles in the office.
Employee Paige Liebowitz won a free day of massage therapy and smoothies for her office through a drawing by a local healthy eatery. The Forum Group Chief Operations Officer Ed Simpson seized the opportunity to create an office event with several other healthy activities.
"As experts in staffing, we truly believe events like these are important to improve office morale and overall job satisfaction, while helping managers improve their employee retention rates," Simpson says. "I wanted to have a few different things occurring throughout the day to enhance the experience. First thing in the morning Jessie Mirabile, one coordinator of the day's events, blended protein smoothies for the entire office. Everyone who came into the kitchen on Friday morning received a delicious free smoothie made with fresh fruit, almond milk, flax/chia seed, and Optimum Nutrition brand protein powder. She educated everyone on the benefits of supplementing with protein as she made the smoothies."
Ed, Paige, and Jessie also coordinated a health-centered competition for the office centered on the popular TV show "the Biggest Loser." For 60 days, Forum employees can opt-in and compete to lose the highest percentage of body-fat. Participants have contributed to a pot that will be matched by Frank Fusaro, Forum's President, with a minimum prize of $600. A local Equinox gym volunteered to aid with this event. In keeping with the healthy theme of the day, employees could have a computerized assessment of their height/weight/BMI stats, even if they chose not to take part in Forum's "Biggest Loser" event.
Mirabile says, "Already, we've had such a positive response we're planning future events that foster both enthusiastic team-building and contributions to the surrounding neighborhood."
Simpson believes that in order for events like this to be successful, it's crucial that managers and employees collaborate in planning activities for wellness days. After receiving suggestions from the team, Frank Fusaro, provided a spread of healthy snacks, salads, and wraps. Another Forum first, therapy dogs came to the office for the first time. The events were staggered throughout the day to ensure a full workday of activities to choose from.
The American Society for the Prevention of Cruelty to Animals sent two ambassadors with therapy dogs to the office, a Cockapoo named Bertha, and a mixed breed by the name of Spot. For two hours, staff members could interact, pet, and play with the two dogs.
About The Forum Group
The Forum Group is a New York, New York-based leader in the staffing, vendor management and consulting fields, providing clients with the finest in human capital, process management, and financial consulting services. For nearly 40 years, the Forum Group has developed the areas of staffing expertise most sought by clients, large and small. The company services clients ranging from entrepreneurial startups to Fortune 100 global giants. For more information on the Forum Group, please call 212-687-4050 or visit Forumgrp.com to learn more.