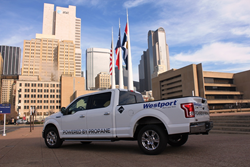 Georgetown, Texas (PRWEB) February 29, 2016
Who: CleanFUEL USA, an industry leader in propane autogas technology
When: March 1-4, 2016
Where: The National Truck Equipment Association (NTEA) Work Truck Show, Indiana Convention Center, Indianapolis, IN
On-Display in CleanFUEL USA Booth #5575
CleanFUEL USA will feature a PRO 6100 propane autogas refueling dispenser, featuring eCONNECT, the industry's first complete fuel network management system for electronic dispensers.
On-Display in Propane Education and Research Council's Booth #5591
PERC will showcase the Westport Ford 5.0L F-150 with CleanFUEL USA LPI system, the only half-ton OEM autogas pickup offered in the market and only dedicated autogas F-150 backed by Ford under their QVM program. Designed to transport passengers and cargo, the 2016 Ford F-150 offers a 5.0L engine with improved emissions compared to gasoline, and the new aluminum alloy body reduces the truck's weight by as much as 700 lbs. An additional PRO 6100 refueling dispenser will also be on display in the PERC booth.
Green Truck Ride & Drive – Wednesday and Thursday, March 2-3, 12:00-4:30 p.m. EST
Outside the arena, the Freightliner Custom Chassis Corporation S2G propane-powered medium-duty truck, equipped with a linebacker crane body and CleanFUEL USA's LPI system, will be available to test drive at the Green Truck Ride & Drive. The FCCC booth #4347 will also showcase a S2G box truck.
Green Truck Summit Panel Session: The Propane Autogas Advantage: Reduce Your Total Cost of Ownership – Wednesday, March 2, 8:00-9:15 a.m. EST
CleanFUEL USA customer Jay Massey, corporate fleet manager at Amerigas, alongside other autogas users will discuss propane's total cost-of-ownership benefits and his overwhelmingly positive experience with his fleet of FCCC S2G trucks.
For details on the NTEA Work Truck show, please visit: http://www.ntea.com/worktruckshow.
About CleanFUEL USA:
CleanFUEL USA, the nation's first developer of liquid propane fuel injection systems, is a leading manufacturer of propane autogas dispensers and refueling infrastructure. Headquartered in Georgetown, Texas, with an engineering division in Wixom, Mich., CleanFUEL USA celebrates more than 20 years of innovation. Setting industry standards with a complete alternative fuel solution, CleanFUEL USA products offer unsurpassed economic and environmental advantages. Learn more at http://www.cleanfuelusa.com.
Connect on Twitter (@CleanFUELUSA), Facebook (facebook.com/CleanFUELUSA) and YouTube (youtube.com/CleanFuelUSA1).