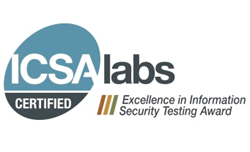 ICSA Labs' Excellence in Information Security Testing (EIST) Awards recognizes Quick Heal's dedication to their continued quality improvement process and their contribution to a more secure environment for the industry. -- George Japak, ICSA Labs
Boston, Mass. (PRWEB) February 29, 2016
Quick Heal Technologies today announced it has been named a 2016 Excellence in Information Security Testing Award recipient by ICSA Labs for successful completion of five years of continuous ICSA Labs information security testing.
The Excellence in Information Security Testing (EIST) Award recognizes clients that have continually tested their products and maintained their information security certification with ICSA Labs. ICSA Labs' clients benefit by working closely with technical analysts, leveraging criteria for product development, accessing research and participating in consortia, all with the objective of contributing to improved products that benefit customers and the security ecosystem.
Upon accepting the award, Sanjay Katkar, Co-founder, Chief Technology Officer, Quick Heal Technologies Ltd. said, "For more than 20 years now, Quick Heal has been dedicated to addressing the best interests of our customers. Being recognized by ICSA Labs is a major proof point of our longstanding commitment to excellence through ongoing testing, certification and best practices."
Quick Heal, a global security company, launched its Seqrite product line in North America last year. Seqrite provides small-to-midsize enterprises (SMEs) what they need to thwart internal and external threats, cyberattacks and malicious intents before they strike, all through a simple-to-use, cloud interface. Offered through the North American IT channel, Seqrite delivers cross-platform support for Apple, Windows, iOS and Android endpoints, along with servers and networks/gateways, and total mobile device management.
"It requires a full commitment to achieve and maintain ICSA Labs' information security certification," said George Japak, managing director, ICSA Labs. "ICSA Labs' Excellence in Information Security Testing (EIST) Awards recognizes Quick Heal's dedication to their continued quality improvement process and their contribution to a more secure environment for the industry."
About Quick Heal Technologies Ltd.
Quick Heal Technologies Ltd.'s Seqrite data security product line targets small-to-midsize enterprises (SMEs) and is designed to simplify security management across endpoints, mobile devices and networks.
For more information on the Quick Heal Seqrite Partner Program, please contact 855-978-6117, email us.sales(at)Seqrite.com or visit the Quick Heal partner page. For more information on Quick Heal, visit http://www.quickheal.com.
About ICSA Labs
ICSA Labs, an independent division of Verizon, has been providing credible, independent, third-party product assurance for end-users and enterprises since 1989. ICSA Labs provides third-party testing and certification of security and health IT products, as well as network-connected devices, to measure product compliance, reliability and performance for many of the world's top technology vendors.
###
Disclaimer
This document is not an offer of the Equity Shares for sale in the United States. Any public offering of the Equity Shares to be made in the United States will be made by means of a prospectus that may be obtained from the Company or the selling shareholders and that will contain detailed information about the company and the management, as well as financial statements.
The Equity Shares have not been and will not be registered under the Securities Act, and may not be offered or sold within the United States except pursuant to an exemption, or in a transaction not subject to, the registration requirements of the Securities Act and applicable U.S. State Securities laws. Accordingly, the Equity Shares are being offered and sold (i) within the United States to persons reasonably believed to be qualified institutional investors (as defined in Rule 144 A under the Securities Act); and (ii) outside the United States in offshore transactions in reliance on Regulation S under the Securities Act and applicable laws of the jurisdictions where such offers and sales occur.