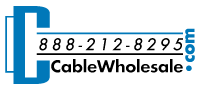 We believe our 20th year in business will be our best ever
Livermore, CA (PRWEB) February 28, 2016
On Feb. 8, 2016, CableWholesale celebrated 20 years in business.
CEO and Founder Sharon Jiang started CableWholesale in 1996, and the company is a certified woman-owned and minority business. Jiang started the company after gaining experience as a salesperson for a hard-disk drive manufacturer, before the rise of dot-coms. At the time, selling cables and AV equipment online seemed like a crazy idea.
After a successful transition into the burgeoning e-commerce industry, CableWholesale now provides more than 3,600 products over the phone and through their online store, CableWholesale.com. By producing cables and electronics overseas and importing directly to the United States, the company has offered competitive prices to both consumers and suppliers.
The company maintains two shipping facilities in California and Georgia, which helps them quickly service customers all over the world.
To celebrate their 20th year in business, the company is excited to announce that from June 4 through 10 it will be exhibiting at InfoComm 2016, the premier conference for AV industry professionals. Michael Capone, Chief Operations Officer at CableWholesale, says the company is excited about showing off their newest products at the annual trade show.
"We are looking forward to meeting with our current customers as well as being introduced to new customers as well," Capone said. "We believe our 20th year in business will be our best ever."
The company recently introduced a new "slim line" of cat6a cables; these new cables have a slimmer diameter, allowing customers to fit much more of them in their server room installations. Capone said they have also added new HDMI highspeed cables to their value product line, which deliver the high quality customers expect at a fraction of the price.
About CableWholesale.com
CableWholesale is a certified woman-owned and minority business. The company was founded in 1996 to develop, produce and sell products that exceed the performance, quality, value and safety requirements of all customers. With competitive prices in both the retail and supplier cable markets, CableWholesale operates shipping facilities in both California and Georgia to quickly service orders throughout the United States and beyond. For more, visit the company's website CableWholesale.com.