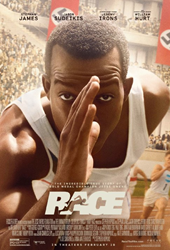 "An intimate screening that allows us a platform to show the film and discuss it in a city like Miami is fantastic." says 'Race' producer Jean-Charles Levy.
Miami, Florida (PRWEB) February 27, 2016
Outsmart Labs is bringing a VIP private screening of the feature film 'Race' in South Florida on Monday, February 29th, 2016. Lead actor, Stephan James, and producer, Jean-Charles Levy, will be in attendance as special guests. This event will serendipitously coincide with the end of Black History Month. Outsmart Labs has been handling all the international marketing on behalf of the producers and worked very closely with Focus Features/Universal & Mr. Smith Entertainment. In addition, the European premiere will take place in Monaco on March 11th, 2016.
'Race' is the biopic focused on Olympic athlete Jesse Owens and his journey to becoming one of the most famous track and field athletes during the 1936 Berlin Olympics. The film's title came to hold a double meaning due to the difficulty Owens faced as both an African American and a track and field athlete during Hitler's reign. However, in an environment where he was extremely unwelcome, he flourished and brought 4 gold medals home to the U.S.
"We've been thrilled to work with Outsmart Labs throughout the making of this film. Being involved in a Miami premiere is a way to thank them for their work and add to the film community in South Florida," says 'Race' producer Jean-Charles Levy. "We're about to start the promotion in the rest of the world. An intimate screening that allows us a platform to show the film and discuss it in a city like Miami is fantastic."
The Miami private screening will be held at Regal Cinemas South Beach on Monday, February 29th at 6:30pm. There will be an introductory presentation made by special guests from the film, and additional tickets for the event may be purchased here: https://outsmartlabs-race-privatescreening.eventbrite.com. As they are in very limited quantity, it is advised that interested parties act very quickly.
"Being involved in the process of this film has been an incredible human experience. Not only was it inspiring to watch Jesse's fight against racism through integration, the making of this film also translated to an international collaboration on an independent film co-produced between France, Germany & Canada - this just embodies everything Jesse stood for." says Outsmart Labs Co-Founder, David Azar. "We've really enjoyed watching this film come together as an international collaboration."
The event is expected to attract multiple press outlets as well as local celebrities. Between the efforts made by Outsmart Labs and the filmmakers, the private screening of 'Race' in Miami is poised for a great deal of success. Interested parties can reach out to Race(at)OutsmartLabs(dot)com for press and other information.
Outsmart Labs is a digital advertising agency headquartered in Miami, FL. They specialize in services such as search engine optimization, website design, digital content strategy and social media management. For more information, visit http://www.OutsmartLabs.com or call (305)-671-3504.