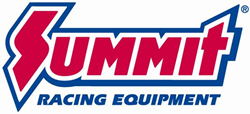 Tallmadge, OH (PRWEB) March 02, 2016
Hotchkis Sway Bars are now available at Summit Racing Equipment. The bars help control a vehicle's chassis movement and reduce body roll when cornering or on a twisty road. The bars come with polyurethane bushings and hardware. Hotchkis recommends getting bars for front and rear for best results.
Hotchkis Sway Bars are part of the company's Total Vehicle System (TVS). With TVS, car owners can upgrade their suspension a piece at a time as budget allows, or they can buy a complete kit and do the whole shebang at once. This article on Summit Racing's OnAllCylinders blog will explain the thinking behind the TVS system.
Summit Racing carries Hotchkis Sway Bars, TVS kits, and TVS suspension components for many popular vehicles including:

1964.5-70 Mustang
1967-2002 Camaro/Firebird and 2010-15 Camaro
1965-72 GM A-body
1968-74 Chevy II/Nova
1978-87 GM A-/G-body
1963-72 Chevy/GMC pickup
1966-69 Dodge B-body
1970-74 Challenger/Barracuda
1967-76 Dart/Valiant
Summit Racing Equipment
http://www.SummitRacing.com
1-800-230-3030