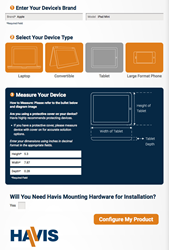 Warminster, Pa. (PRWEB) February 29, 2016
Havis Inc., a leading designer and manufacturer of safe, reliable and ergonomic products for mobile workers, has launched a unique Computing Device Configurator to help fleets search for docking and mounting solutions by device brand, model and size.
The Havis Computing Device Configurator is designed to help mobile office workers identify docking and mounting solutions by the type of device being used – whether a laptop, convertible, tablet or large format phone. The user-friendly online tool provides guidance on how to properly measure the width, height and depth of a device, including protective cases and covers, to choose products that will fit and function properly the first time.
"When it comes to building a mobile office solution, selecting the right products can be overwhelming," said Keith Steidle, director of business development and marketing at Havis. "Fleet managers must not only consider a product's impact on the safety, comfort and productivity of mobile workers, but also its compatibility with existing equipment. That's where our new configurator can save fleet managers time in determining the best solution."
The new configurator gives users real-time access to the latest Havis products, including a new line of universal cradle options developed in response to the increasing demand for tablets in the mobile workforce. The configurator also identifies Havis' docking stations and cradles designed specifically for Apple, Dell, Getac, Lenovo, Microsoft, Panasonic and Samsung devices, among others. Havis works closely with manufacturers to constantly develop new mobile office solutions that maximize functionality and performance.
In addition to the new Computing Device Configurator, Havis provides an array of online configurators that provide an enhanced experience to help mobile workers find solutions that will fit their device or vehicle specifications, including:

Heavy Duty Mount Configurator to build a rugged, professional-grade computer mounting solution that balances strength, safety and ultra-smooth operation for reliable functionality in the roughest conditions.
Monitor Mount Configurator to select a mounting solution by vehicle and monitor. The Havis Monitor Mount System utilizes interchangeable parts to mount a monitor to any vehicle, without permanent modification.
Equipment Bracket Configurator to search brackets based on equipment size. Havis Equipment Brackets secure a wide range of control heads into consoles. New angled brackets keep mounting solutions compact while minimizing permanent modification.
Prisoner Transport Insert Configurator to identify safe and secure prisoner transport inserts and compartment solutions for Chevrolet, Dodge, Ford, Nissan NV and Sprinter vans, with optional features for customization.
Havis Integrated Control System Configurator to select proper base and console packages for a vehicle. The space-saving Havis Integrated Control System creates a safe and efficient work environment for Ford Police Interceptor Utility and Sedan dashes without permanent modification.
Havis is committed to educating customers on product safety in mobile computing, resolving complicated vehicle computing needs and handling the most demanding jobs. Havis representatives work side by side with customers to provide product information, installation support, updates on industry testing and validation requirements, and help to guide customers to the right solution – whether a universal cradle for a computing device, or a fully-integrated control system installed in a vehicle's dashboard – to solve diverse challenges in the field.
For more information on Havis' online configurators, visit http://customers.havis.com/index.php/build.
Follow Havis
Stay up-to-date on the latest products and announcements from Havis through the Havis Equipped Blog, LinkedIn and Facebook.
About Havis
Havis Inc. is a privately held, ISO 9001:2008-certified company that manufactures in-vehicle mobile office solutions for public safety, public works, government agencies and mobile professionals. For more than 80 years, the Havis mission has been to increase mobile worker productivity with industry-leading products that are built to the highest safety and quality standards and are designed with comfort in mind. With headquarters in Warminster, Pa. and an additional location in Plymouth, Mich., Havis currently employs 250 people. For more information on Havis, please call 1-800-524-9900 or visit http://www.havis.com.
# # #