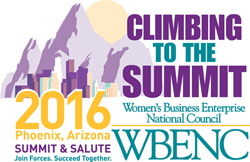 Jupiter, FL (PRWEB) February 29, 2016
ITC Global Translations will be attending the 2016 Women's Business Enterprise National Council (WBENC) Summit & Salute on March 22-24, 2016 in Phoenix, AZ.
The WBENC Summit & Salute will celebrate the successes of our Women's Business Enterprise Stars and America's Top Corporations for Women's Business Enterprises. Members will participate in thought provoking workshops, formal and informal networking and the Salute gala. WBENC Summit & Salute will focus on opportunities for business growth and identifying the newest trends across several key industries.
"We look forward to attending this summit this year again in order to meet other business women" said ITC Global Translations Owner, Celine Imbaud. "This event helps us understand more how we can approach companies seeking diversity suppliers. It also gives us the opportunity to meet new partners so as to surpass our customers' requirements."
About ITC Global Translations
Established in 1999 by founder Ms. Celine Imbaud, ITC Global Translations is an international Woman Owned, professional translation company with offices in Lissieu, France, Jupiter, Florida, and Montreal, Canada. They are fully European EN 15038 standards certified. In addition, ITC Global Translations is HIPAA certified. A privately held company, ITC Global Translations was established to remove cultural barriers and open communications and new markets for its clients. This business to business translations company specializes in Medical and Pharmaceutical industry translations worldwide. They also provide translation services in a wide spectrum of industries including Biopharmaceutical, Biotechnology, Agro-Food, Marketing, Medical, Technical, and Tourism.
ITC is accustomed to working from an international point-of-view and to communicating with people around the world, and its staff members are happy to apply this insight in assisting clients with their global communication needs. ITC applies translation industry best practices to offer turnkey translation solutions at competitive prices. The key to ITC's success is a combination of expert linguists, rigorous processes, and high standards.