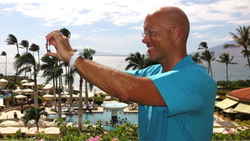 Say Aloha, Please: What's better than a selfie? At Four Seasons Resort Maui, capturing happy moments is yet another way for guests to recall and share their vacation experiences.
Wailea, Maui Hawaii (PRWEB) February 26, 2016
Say Aloha, Please:  What's better than a selfie?  At Four Seasons Resort Maui, capturing happy moments is yet another way for guests to recall and share their vacation experiences.  Getting the perfect shot requires skill and patience. Getting everyone in the photo — is often trickier and harder to navigate.  
Enter Scott Miles, Four Seasons Resort Maui's passionate and first Photo Ambassador, who uses guests' cameras to personalize individual and group shots – often amidst a spectacular Maui sunset backdrop for which the luxury Resort is known.  
"It's a dream job," admits Miles, who has become known to guests and staff alike as "Smiles." He began his career at Four Seasons as a security guard but quickly noticed hotel guests gathering at key times -- most often sunrise and sunset hours -- trying to capture the moment. He started offering to take these photos to make sure no one was left out of the photograph. It didn't take long before guest appreciation exploded and Miles became the hotel company's first official "Photo Ambassador."  
The super-energetic Miles says he has always been fascinated with photography. Now, this self-taught photographer gets to combine his passion and skills with his open and engaging personality as the Resort's on-staff ambassador of capturing happy Four Seasons Maui memories.
Using guests' cameras and cell phones, he is able to both take the shots people request as well as guide guests to some of his favorite resort spots. After the complimentary mini-photo session, Miles is happy to spend a few minutes reviewing the photos and advising which to keep.
This is just one of the many complimentary services and amenities Four Seasons Resort Maui guests can expect to experience, of which there is no Resort fee. Serving discerning guests for the past 25 years, the iconic Resort is eager to keep building on the foundation that has created its legendary status: intuitive service, understated elegance, and luxurious amenities. 
About Four Seasons Resort Maui: One of the world's most acclaimed resorts is nestled on 15 acres of the breathtaking Wailea Coast.  The 380-room oceanfront property is renowned for its comfortable opulence, impeccable service, and luxurious amenities -- and for living in harmony with its environment and community.  The resort in Maui is also home to one of the nation's top-rated spas committed to wellness and three of Hawaii's most acclaimed restaurants—Ferraro's Bar e Ristorante, Spago Maui and DUO, a premium steak and seafood restaurant. This sophisticated home away from home caters to the needs and interests of all generations—offering world-class activities with no Resort fee and one-of-a-kind Unforgettable Events, a museum quality art collection, three pools overlooking the azure-blue Pacific Ocean including an adults-only Serenity Pool with exclusive Missoni-designed cabanas, and more.  Four Seasons Resort Maui is a Hawaiian vacation destination geared to action adventurers, those guests wishing to practice the fine art of doing nothing at all, and everyone in between.  
Contact: Charlotte Novom, Novom Marketing, Inc. (714) 941-9799 cnovom(at)novom(dot)com