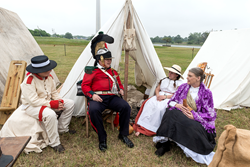 "For the Texans, their victory at San Jacinto led to Texas' annexation into the United States," says Chad Muir, Chairman of the Board, San Jacinto Museum. "In the end, the United States would gain not only Texas but also New Mexico, Nevada, Arizona,
Houston, Texas (PRWEB) February 29, 2016
The largest battle reenactment in the state is the centerpiece of the no-admission San Jacinto Day Festival, to be held on Saturday, April 23, 2016, from 10 a.m. to 6 p.m. on the grounds surrounding the San Jacinto Monument. The battle reenactment recreates the battle of Texas revolution that resulted in Texas winning its independence from Mexico 180 years ago at the decisive Battle of San Jacinto on April 21, 1836.
Sponsored by the San Jacinto Museum of History Association, the festival is a full day of entertainment, vendors, food, family activities, cultural exhibits, games and fun set amidst living history: music and dancing on three stages featuring country-western bands, flamenco dancers, Native American presentations, square dancers and much more; 15+ food vendors; make-and-take activities and crafts for children; children's train; petting zoo; medicine wagon show; birds of prey; weavers, spinners, blacksmiths and other demonstrators; and dozens of unique hand-crafted items for sale.
Thanks to Presenting Sponsor H-E-B and major sponsors City of Deer Park, City of La Porte and Dow Chemical Company, the San Jacinto Museum of History Association is able to maintain this as an no admission fees for the festival's 12,000+ visitors. There is no charge for parking or the shuttles, so come early and follow directions from parking staff. No drones or hoverboards allowed on the park/festival grounds. This Texas history event is coordinated by the San Jacinto Museum of History Association with the assistance of Texas Parks & Wildlife Dept (TPWD) and the San Jacinto Volunteers Texas history reenactors.
San Jacinto Day Festival and Battle Reenactment: On Saturday, reenactors from across the state become figures of the Texas Revolution and Texas history, for the day. Visitors can wander among the Mexican and Texian camps to learn what the soldiers and their families were doing prior to the battle in 1836. At 3 p.m., the official (and historically accurate!) reenactment of the Battle of San Jacinto begins. With hundreds of Texas history reenactors, this reenactment—complete with cannons, horses and pyrotechnics—is the largest in southwest United States.
All festival activities are updated regularly on the San Jacinto Museum of History website at http://www.sanjacinto-museum.org. Entertaining, educational activities include:

Baytown Nature Center and Eddie V. Gray Wetlands Center
Last Chance Forever - interactive demonstrations of magnificent birds including hawks, owls, eagles, falcons and vultures
K.R. Wood and Chuck Wagon of Texas History
Texas Snakes is a fun and hands-on educational show of many different species of non-venomous indigenous snakes
"All Stars" Youth Banjo Band is made up of boys and girls from 6 to 17 years
Phydeaux's Flying Flea Circus and Wahoo Medicine Show
Buffalo Soldiers National Museum
Charles Lara aka Black Beaver will reenact a Delaware Blanket Trader
Exhibit of TPWD's popular Operation Game Thief, Texas' wildlife Crime-stoppers program
Danza Azteca Taxcayolotl and Danza Azteca ceremony
North Harris County Dulcimer Society
Camel rides and mechanical bull rides
Blacksmiths, weavers, spinners and other demonstrator
Archery classes
Representatives of the San Jacinto Descendants, the Daughters of the Republic of Texas, the Sons of the Republic of Texas, the Texas General Land Office and the Texas Independence Trail Region
Texas Independence Square Dancers
Hand-crafted items, Texas products and history-related items.
The Children's Area—sponsored by The Dow Chemical Company and Deer Park ISD—includes:

A 55' train complete with train whistle and Texan and American flags.
Make-and-take history activities and crafts created and overseen by Gifted/Talented specialists from Deer Park ISD.
Marsha's Petting Zoo with sheep, goats and other friendly small animals.
For more information, visit http://www.sanjacinto-museum.org or call 281-479-2421.
The San Jacinto Monument is open year round except for Thanksgiving Day, and December 24th and 25th. Visitors can ride the elevator to the top for a panoramic view of the festivities, explore the special exhibit, watch a Texas history movie and tour the hundreds of museum pieces on display. A prized Tryon flintlock muzzle-loaded musket from 1816 will be on display for free until the end of 2021. On loan from native Texan Tom O'Neal whose great, great, great, grandfather Samuel Watkins fought in the Republic of Texas army, there are as few as seven of this type of musket documented in the country.
There are modest admission fees for the elevator ride, movie and the special exhibit entitled "A Destined Conflict: The U.S. – Mexican War," located inside the Monument. For more information, the public may visit http://www.sanjacinto-museum.org and Facebook, or call 281-479-2421.