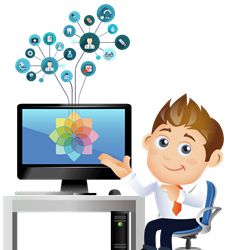 Each of these programs is different. With ZenPRM, our users can define the workflow that fits their objectives and available resources.
Las Vegas, NV (PRWEB) February 29, 2016
Algonquin will formally unveil its new value-based program management platform, ZenPRM, as part of the HX360 Innovation Pavilion at HIMSS 2016 in Las Vegas. The software provides an end-to-end project management solution for Program Managers at Physician Practice Groups, Managed Care Organizations, and Community Based Organizations. The software offers tools for building high performance networks, executing programs, and gaining insights into performance.
Over the past 18 years working in healthcare IT, Algonquin staff & leadership repeatedly saw the huge amount of manual labor and duplication of effort going into the administration of healthcare programs. "The status-quo in managing these programs is Excel or traditional CRM," said Algonquin President Steve Kiernan. "This leaves all the heavy lifting of program tracking and reporting to already overworked administrators. We knew there was a better way, so we built it. We designed this software with one goal in mind – to simplify healthcare administration."
ZenPRM lets users define networks of physicians by importing existing lists or by selecting providers from the NPPS registry. Program Managers can then survey the network participants using ZenPRM's robust form creation tools and configure follow-ups to be assigned to internal staff based on the answers to specific questions. "Each of these programs is different," said Don Lee, Vice President of Healthcare IT Services at Algonquin. "With ZenPRM, our users can define the workflow that fits their objectives and available resources."
When asked how this improves on existing tools, Mr. Lee responded, "CRM software is designed to track people, not processes and for administrators working in Excel, there's no visibility across projects. With our advanced searching, mapping, and visualizations of the networks, our customers can gain insights across projects that just aren't possible with other existing products."
CMIOs & CFOs also benefit from having their teams use ZenPRM. "We provide real-time status tracking and enforce accountability," said company CEO Steve Raines. "Our reporting dashboard gives C-level executives a clear picture of where every project is – in real-time. Gone are the days of having to wait until you're up against a reporting deadline to see where you stand. Now, issues get identified early, when you can do something about it."
While officially launching at HIMSS, ZenPRM has already attracted early adopters.
"We're working with folks every day who have connected with the product at a real emotional level," said Mr. Raines. "ZenPRM takes away that feeling of being overwhelmed and leaves them with a sense of… joy. When they feel it, we feel it and that keeps driving our team to do better every day."
ZenPRM is a product from Algonquin, a company that has written custom enterprise healthcare software for nearly 20 years. Algonquin has offices in New York City and Buffalo, New York and will be presenting ZenPRM this week in booth 33 and 34 of the HX360 Innovation Pavilion at HIMSS 2016. Learn more and get started with ZenPRM, visit Algonquin at http://getZenPRM.com.