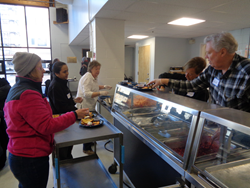 Nobody leaves Eva's hungry, but hunger is still a big problem
Paterson, New Jersey (PRWEB) February 29, 2016
When Eva's Community Kitchen first began serving a hot breakfast on December 1, it was anticipated that they would see perhaps 50 guests per day. Less than three months later, they are serving triple that number each morning. "The food is good," noted Jose, a regular guest at breakfast and lunch who volunteers in the kitchen and often helps unload food from delivery trucks. "Nobody leaves Eva's hungry, but hunger is still a big problem," Jose observed. The program's dramatic growth demonstrates the degree of food insecurity in the community.
The breakfast program at Eva's Village was launched during the coldest months of the year, to offer an additional hot meal and warm, safe respite for community members in need. "The need for breakfast grew quickly. We started with 65 guests and now we are averaging 150 guests every morning. Many of the guests have personally thanked me for providing a hot meal and coffee," noted Executive Chef Director Darryl Dela Cruz. He explained that the number of guests usually increases over the course of a month. "Not as many people show up the first 10 days of the month. It really starts to get crowded towards the end, when some of our guest's assistance runs low," he said.
Breakfast service is a natural extension of Eva's mission: combining a nutritious, hot meal and a warm welcome with an opportunity to learn about services that can help guests recover hope and rebuild their lives. "The addition of breakfast within our Community Kitchen is a testament to our care for those we serve, as well as an outpouring of generosity and help from our donors and volunteers," noted Donna Fico, senior director of program and resource development at Eva's Village. Each day, volunteers from the Recovery Center at Eva's Village join the kitchen volunteers to serve coffee, getting to know the guests and offering them information about Eva's services and programs. Since they started serving breakfast, 91 unduplicated individuals have been referred to the Recovery Center for services needed. Both of Eva's meal programs depend on donors' financial support, donated food and the support of volunteers to serve the guests.
Founded by Msgr. Vincent E. Puma in 1982, Eva's Community Kitchen began by serving 30 meals a day in Paterson, NJ. Through more than three decades of service, Eva's Village has established a unique record in facing community challenges and changing the lives of the hungry, homeless and addicted. It has grown from a simple soup kitchen to become the most respected anti-poverty program in New Jersey. The organizations twenty programs are housed in numerous buildings, spanning several city blocks in downtown Paterson. Since 2011 Eva's has been serving nearly 400 lunches a day to guests, in addition to meals for clients living in Eva's shelters and recovery programs (more than 400,000 annually).
To find out about joining the 3,500 volunteers who assist with Eva's Village programs each year, visit the volunteer page on our website or email Liz Matthews, Eva's Village Volunteer Coordinator, or call 973-523-6220 x 248. To find out more about Eva's Village, visit our website.