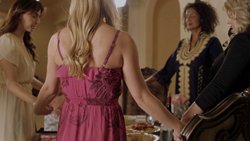 When we screened Only God Can at our film festival, the impact on the audience was profound. In Only God Can, not only was the value cinematic, but so were the messages of friendship, sisterhood and unconditional love.
Charleston, South Carolina (PRWEB) February 28, 2016
Only God Can, an award-winning Christian film produced by Inspire You Entertainment of Charleston, S.C., will debut in theaters nationwide, starting in March. The uplifting film, which is being distributed through a "Theatrical On Demand" model, is already the recipient of two awards — the Indie Fest Film Award of Excellence under the Christian category and the Inspired Faith Film Festival's Sisterhood Award, which honors films in which "women supported women." In addition, Only God Can was one of a select number of movies chosen to be shown at the 20th anniversary celebration of the International Family Film Festival in Hollywood, Calif.
"When we screened Only God Can at our film festival, the impact on the audience was profound," said award-winning filmmaker, Judith Falloon-Reid, co-creator and co-producer of the Inspired Faith Film Festival. "Many who saw the film cried, including men, and all clapped heartily in the end. As a producer of a film festival — and one who has attended numerous others — I feel it is important to recognize all elements that make a film valuable. In Only God Can, not only was the value cinematic, but so were the messages of friendship, sisterhood and unconditional love."
Filmed in Charleston and Greenville, S.C., and Los Angeles, Calif., Only God Can tells the story of five College of Charleston alumni who have remained friends over the years since graduation. Following a reunion at the home of one of the friends, tragedy strikes; and, as they reach out to provide support to each other, the women are motivated to examine and reflect upon their own lives. Together, they ultimately discover that faith brings empowerment, setting them on the path to enriched lives and becoming the people God truly desires them to be.
"I am very grateful for the recognition and praise that Only God Can has received so far," says Linda Flannery, executive producer of the film. "Working with wonderful actors and crew, we produced a movie that is not only entertaining, but inspiring. Our hope is that it encourages others to explore how they can be empowered by faith."
Motivated by a script that beautifully explores elements of friendship, love and faith, several well-known actors came together to make the movie. Portraying the women friends are Lisa Sheridan ("Scandal" and "CSI") as Sara; Donna D'Errico ("Austin Powers" and "Baywatch") as Coley; Robbi Chong ("ER" and "The Cosby Show") as Patrice; producer and actor Debra Capps as Glen; and Vanessa Evigan ("How I Met Your Mother" and ABC Family's "Holiday In Handcuffs") as Gracie. Greg Evigan ("B.J. and the Bear" and "My Two Dads") portrays Pastor Rodney. The official movie trailer is at https://vimeo.com/131303723
Only God Can also features an original song, "This Is Not My Home." It is performed in the film by singer-songwriter Will Champlin, best known for finishing in the top 3 on Season 5 of NBC's singing competition, "The Voice." The song is available on iTunes, Google play and amazon.com.
How To Attend A Screening Of Only God Can In Local Theaters
Inspire You Entertainment has teamed up with Gathr Films and is using a "Theatrical on Demand" distribution method to bring Only God Can to theaters across the nation.
"This type of distribution relies on the grassroots to bring a movie to a theater," says Flannery. "We need those who want to see the movie to join us in creating a groundswell of interest so that we can screen the movie in their areas. Those who'd like the opportunity to see Only God Can, can go to the website (http://www.onlygodcanmovie.com) and simply reserve tickets on-line for existing screenings, or if one doesn't see a screening in their city, simply fill out a form and request a showing. Just choose the date, time and theater and we will handle the rest and send an alert when the screening is confirmed. We also hope that those who see Only God Can will spread the word to their friends in other places around the country, so that they can have a screening of the film in their hometowns."
More information about Only God Can is at http://www.onlygodcanmovie.com/about-us/
About Inspire You Entertainment
Inspire You Entertainment, headquartered in the Charleston, S.C. area, is a production company that produces and distributes faith-based films designed to provide viewers with inspiration and encouragement as they navigate life's everyday challenges. Linda J. Flannery serves as the company's chief executive officer, and is the executive producer of Only God Can. The word inspire's two root components ("in" and "spirare") come together to mean "to breathe life into a person." Inspire You Entertainment aims to inspire women and show them a path to empowerment. More information about Inspire You Entertainment is at 818-588-0646.
###