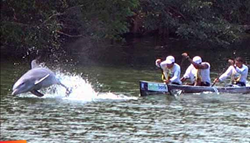 As they have been doing for thousands of years, Belize's rivers continue to provide transportation, education and enjoyment for thousands of people.
San Ignacio, Belize (PRWEB) February 29, 2016
In early March 2016, The Lodge at Chaa Creek will once again be competing in one of the longest, most gruelling canoe races in the world, Belize's La Ruta Maya River Challenge, and according to the popular Belizean eco-resort's general manager, winning is more about raising environmental awareness than taking home a trophy.
Bryony Fleming Bradley said that while competition is tough, the racers themselves are primarily in it to spread the word about the need to protect Belize's network of pristine rivers—the aquatic "superhighways" of the ancient Maya.
"Chaa Creek has been competing in La Ruta Maya for years now, and what drew us in, and keeps us coming back year after year, is the important role the race plays in making people aware of how beautiful and, at the same time, how fragile Belize's rivers are.
"They're an important part of Belize's history and ecology, which are just as vital today as they were thousands of years ago when the Maya plied them for trade and empire building, and later when the first Europeans and Africans began living and working along their banks," Ms. Bradley said.
The La Ruta Maya is traditionally held to coincide with the national Baron Bliss Day holidays, and this year will run from March 3-7, 2016. Once again, the race begins near Chaa Creek at San Ignacio Town and follows Belizean rivers to the Caribbean coast, finishing in Belize City. Overnight stops along the way are at the picturesque villages of Banana Bank, Double Head Cabbage and Burrell Boom before a robust and usually raucous finish under the Belcan Bridge in Belize City.
Since its humble beginnings in 1998, La Ruta Maya has grown from a local competition involving a few dozen canoes to a prestigious international event with over 80 teams from around the world vying for the Kinich Ahau trophy.
The 180-mile competition is currently ranked number 40 of the "Peak 100" Toughest Races in the world, but Ms. Bradley said that Chaa Creek's participation is more about education than endurance.
"It is a very gruelling race, and we salute everyone who takes part in it, including the members of our own team, because they're giving it their all to highlight the beauty, importance and fragility of Belize's rivers. Belizeans have long understood the importance of keeping our waterways clean and free of debris, and this gets national attention during the La Ruta Maya," she said.
Chaa Creek's founding co-owner Mick Fleming, who was part of the winning Masters Class Team in the 2002 La Ruta Maya, said that this year, Chaa Creek's team would consist of Rupert Harris and his two sons, Darnley and Kelvin, who will paddle "Slinky Ting," a cedar strip canoe made at Chaa Creek's onsite wood shop, which produces canoes and custom built furniture for the eco-resort.
"Two of our staff members, Efren Ku and Omar Ku of Cristo Rey village, who have become expert canoe builders under the tutelage of renowned Canadian boat designers Steve Killing and Ted Moores, and have completed four racing canoes for La Ruta Maya in past years, will be making the necessary repairs to the canoe and giving it a fresh coat of paint for the occasion," Mr. Fleming said.
Ms. Bradley said Belize's river system also provides tourists with hours of recreational opportunities and is a great way to learn about Belize's environment and Maya heritage.
"Here at Chaa Creek, we maintain a fleet of canoes that are very popular with guests. San Ignacio Town is a scenic, easy downstream paddle with stops along the way in places like the charming little village of Cristo Rey. Guests can also paddle to the Belize Botanic Gardens or drift downstream from there in inflatable tubes, making for lovely, educational day trips.
"River excursions are also a great way to take in Belize's tropical flora and fauna, as many animals such as iguanas, monkeys and the occasional ocelot come down to the riverbanks to drink and feed, and the trees are filled with toucans, parrots and other tropical birds. Many of our guests enjoy canoeing under the historical Hawksworth Bridge into San Ignacio Town, having lunch at the Guava Limb Café, and exploring the town and the ancient Maya royal residence of Cahal Pech before being driven back to Chaa Creek.
"Just as they have been doing for thousands of years, Belize's rivers continue to provide transportation, education and enjoyment for thousands of people each year.
"So once again, we'd like to salute the organisers and participants in this year's La Ruta Maya, and Chaa Creek's friends around the world can see how we're doing by checking the 'Chaa Creek Belize Travel Blog' for updates and race results.
"The excitement's building throughout Belize and we're really looking forward to another thrilling race," Ms. Bradley said.
The Lodge at Chaa Creek is a multi award winning eco resort set within a 400-acre private nature reserve along the banks of the Macal River in Belize.