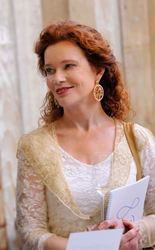 Forget the technical winemaking questions, these are one-on-one interactions that will be insightful and fun! - Karen MacNeil, Author, The Wine Bible
Napa Valley, CALIF. (PRWEB) February 25, 2016
CabFest Napa Valley, the premier luxury lifestyle event that celebrates Cabernet Sauvignon and benefits arts education, will soon take place at the Napa Valley Performing Arts Center at Lincoln Theater in Yountville, California, March 4 – 6, 2016. An exciting element of the three-day event is the opportunity for attendees to experience entertaining and inspiring Cabernet Sauvignon Symposiums.
Two dynamic symposiums have been curated, and will be hosted by, Karen MacNeil, author of The Wine Bible on Saturday, March 5. The first, entitled "Cab on the Couch" will be set up very much like a late-night talk show in front of the live audience. Four guests, all of whom are key vintners or winemakers in the world of Cabernet will be interviewed by MacNeil.
"The guests will come out onto the stage, and sit on the couch one after the other," explains MacNeil, "My job is to ask unexpected questions that will reveal the personalities of, and a few surprises about, these guests. Forget the technical winemaking questions, these are one-on-one interactions that will be insightful and fun!" Pam Starr (Crocker & Starr) and Michael Silacci (Opus One) are the first vintners that have been announced as Cab on the Couch guests.
Later that day, MacNeil will host an exciting new seminar she created called, "He Said / She Said – A Wine War of the Sexes." This session will be similar to a lively and comedic game show. He Said / She Said participants will include: Beth Novak (Spottswoode), Kelli White (sommelier at Press Restaurant and author), Kellie Duckhorn (Baldacci Vineyards), Jean-Charles Boisset (Raymond, Boisset Estates), Tom Rinaldi (Pellet) and John Skupny (Lang & Reed).
Two teams will be made up of Cabernet vintners or professionals—a women's team and a men's team. MacNeil will pose Cabernet questions, while the teams compete to see who knows the most. Each team will be playing for a person in the audience who will "win" three bottles of exceptional Napa Valley Cabernet Sauvignon. "It will be a true wine war of the sexes, Napa Valley-style," MacNeil added.
In addition to these symposiums, there will be a selection of additional symposiums, grand tastings, intimate boutique tastings, innovative cuisine and live entertainment including a performance by recording artist Mat Kearney, as well as VIP and limited-access experiences and after parties such as the Friday, March 4 VIP Cigars & Guitars Party and Saturday, March 5 VIP Platinum Party which will include an intimate reception and private, acoustic performance by Mat Kearney at the Cardinale Estate. At CabFest, the first edition of the new hardcover book, "The CabFest Cabernets," with a foreword written by Karen MacNeil, will be released. For more information visit http://www.CabFestNapaValley.com.
CabFest Napa Valley 2016 Sponsors
Genesis Luxury Vehicles, Cigar Aficionado Magazine, Comcast Spotlight, Wine Spectator Magazine, The Spire Collection's Napa Valley wines (Cardinale, Captûre, Galerie, La Jota, Lokoya, Mt. Brave), Spiriterra Napa Valley Estate, Karen MacNeil – Napa, Yelp, O'Shaughnessy Estate Winery, Robert Mondavi Winery, Silver Oak Cellars, Bank of Stockton, County of Napa, Michael Mondavi Family Estate, Pellet Estate, Shadowbox Cellars, Eagle Eye, Joseph Carr, Coquerel, Hendry Estate, Town of Yountville, Riedel Crystal, San Francisco Magazine, Napa Sonoma Magazine, 7x7 Magazine, Sonoma Magazine, Napa Valley Life, CA Home + Design, GEV Magazine, The Tasting Panel Magazine, The Clever Root, The SOMM Journal, The Luxury Marketing Council, Napa Valley Film Festival, Festival Napa Valley, Visit Napa Valley, Heritage Eats, Ad Hoc + Addendum and Hurley's Restaurant and Bar.
About CabFest Napa Valley 2016
CabFest Napa Valley is a luxury lifestyle celebration of wine, food and entertainment, created to attract a wide audience to the Napa Valley during the shoulder season and simultaneously benefit local arts education. The inaugural CabFest Napa Valley attracted more than 2,000 patrons, with 70% of the attendees traveling from outside the area (17 states and more than three countries). For tickets, or to participate or sponsor, visit CabFestNapaValley.com or call 707.944.9900. Tickets are also available at the Lincoln Theater Box Office at 100 California Drive in Yountville, California from 11 a.m. to 3:00 p.m. Tuesday through Saturday. For more information visit CabFestNapaValley.com. Like CabFest on Facebook and Follow on Twitter, Instagram and Pinterest.
About the Napa Valley Performing Arts Center at Lincoln Theater
The Napa Valley Performing Arts Center at Lincoln Theater is a non-profit performing arts organization dedicated to the cultural and artistic education and well-being of the Napa Valley. The Performing Arts Center is a 501(c)(3) nonprofit organization that nurtures the next generation of artists and audiences through extensive arts education programs, while sustaining a more vibrant and engaged community, through initiatives ranging from presenting world-renowned artists and producing Symphony Napa Valley, to creating and sustaining arts education and access programs in schools, to producing arts and culture education and outreach on site at Lincoln Theater.