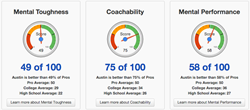 In essence, coaches and management want to understand what's inside the two most important parts of an athlete's body - the head and the heart.
Indianapolis, IN (PRWEB) February 29, 2016
Every draft of a professional athlete has millions of dollars at stake. The cost is not only the salary of the player drafted, but also the opportunity cost of whether there might have been a better pick available to help potentially build a championship team. Professional teams need to understand every intangible aspect of the player to avoid any surprises relating to on-field performance or off-field behavior issues. In essence, coaches and management want to understand what's inside the two most important parts of an athlete's body - the head and the heart. "Even though the game has a huge physical component to it, no one succeeds at the pro level without the right mental skills" says The Right Profile's co-founder, Dr. Robert Troutwine. "We help our professional clients find athletes with the right mental profile, then help them coach and develop them into champions."
With the addition of Super Traits™ to their existing TAP 360™ System, The Right Profile's customers can now easily read and compare an athlete's scores on the three pillars of the mental game: Mental Toughness, Coachability and Mental Performance. These three Super Traits were developed to synthesize and summarize the various scales and traits measured by the company's proprietary Troutwine Athletic Profile™ (TAP), developed by Dr. Troutwine and given to prospects annually at the NFL Combine for more than three decades. The TAP was purpose-built to identify the positive characteristics and behavioral indicators of athletes and has been taken by more than 25,000 elite athletes. The Super Traits are easy to understand and intuitive, for example, a score of 49 for Mental Toughness means that the athlete is better than 49% of pros in the TAP database.
A Detailed Look at the Super Traits
Mental Toughness measures one's determination, competitive spirit and ability to persevere in challenging situations. One component of the TAP's Mental Toughness scoring algorithm is derived from years of research of TAP results with battle seasoned Navy SEALs, special ops forces, decorated combat warriors and elite soldiers who endured the most grueling combat training & missions. The second component of the TAP's Mental Toughness score is drawn from more than two decades work with professional athletes in the NFL, MLB and NBA. This research shows that successful pro athletes often exhibit mental toughness through high scores in competitive desire as well as a steady composure and positive outlook.
Coachability measures one's ability, openness and likelihood to responding to outside coaching and then the ability to apply that coaching in practice and competition. "It's really the ability to process and execute instructions" explains Troutwine. Super Traits™ takes into account the TAP learning scales, attention to detail, willingness to follow rules and effort.
Mental Performance measures one's ability to perform during athletic competition and generally in other stressful activities. This algorithm includes the results on tests of an athlete's ability to quickly and accurately select the colors of letters when presented with interfering stimuli, plus various TAP behavioral scales important to athletic competition including consistency, flexible adjustments and confident decisions.
About The Right Profile
The TAP and TAP 360™ System are services of The Right Profile, a leader in talent analytics integrating the latest technologies with predictive methodologies in behavioral science that transforms the way organizations select, coach and develop talent. The company's cloud-based platform of assessments, reports and exercises help individuals and organizations in the worlds of athletics, law and business. Customers include the New England Patriots, Kansas City Royals, University of Southern California (USC), Miller Johnson and Performance Trust Capital Partners. For more information, visit http://therightprofile.com.