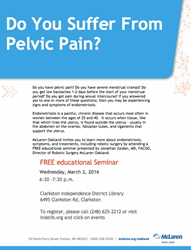 Clarkston, Michigan (PRWEB) February 28, 2016
Women's Excellence is hosting a seminar about endometriosis and its symptoms and treatments, including robotic surgery which is presented by Jonathan Zaidan, MD, FACOG, Director of Robotic Surgery McLaren Oakland.
The seminar will be held Wednesday, March 2, 6:30 -7:30 p.m. Clarkston Independence District Library – 6495 Clarkston Rd, Clarkston. To register, call (248) 625-2212 or visit indelib.org and click on events.
Women's Excellence is the most comprehensive obstetric and gynecologic office in Michigan. They also specialize in menopause, weight control, bladder control, endometriosis, robotic surgery, pelvic floor physical therapy, and midwifery services. The knowledgeable, well-trained, compassionate physicians and healthcare providers of Women's Excellence are taking new patients and are conveniently located in four locations throughout southeastern Michigan, Birmingham, Lake Orion, Clarkston and Metamora. For more information, visit http://www.womensexcellence.com.