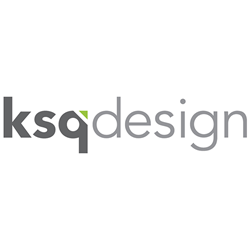 "Our refreshed brand is deeper than a new name and logo," said KSQ Managing Principal David Short, AIA. "It reflects the driving force of all KSQ staff, the reason why we do what we do, and the services we provide to our clients."
New York, NY (PRWEB) February 29, 2016
KSQ Architects announced today a new, singular firm name, corporate identity and website. The firm will now be known as KSQ Design, and the firm's new website and blog are at http://www.ksq.design.
"Beyond architecture, our practice also includes interior design, planning and engineering. Design, we realized, is what ties it all together," said KSQ Design Managing Principal Armand Quadrini, AIA, LEED AP, in a blog published on The Garret today.
KSQ's rebrand follows 2015 industry recognition for its growth, strategy, design practices and commitment to its staff. The firm was recognized as one of the top performing A/E firms in the country in Building Design + Construction and Engineering News Records' Giants 300 List, ranked at 168 in Architectural Record's Top 300 Architecture Firms and was recognized as one of Zweig Group's Best Firms to Work For.
"Our refreshed brand is deeper than a new name and logo," said KSQ Managing Principal David Short, AIA. "It reflects the driving force of all KSQ staff, the reason why we do what we do, and the services we provide to our clients."
KSQ was founded in 1988 with a portfolio that includes higher education, K12 schools, healthcare, multifamily and senior living. The firm maintains seven offices in Colorado, New York, North Carolina, Oklahoma, South Carolina and Texas.
For more information and to view the new website, please visit http://www.ksq.design.