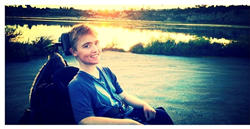 (PRWEB) February 29, 2016
Kicking off "Rare Disease Week on Capitol Hill" is a screening of "Dusty's Trail: Summit of Borneo", an award winning documentary by California-based non-profit Coalition Duchenne founder and filmmaker Catherine Jayasuriya . The film is part of the celebration of Rare Disease Day, to be held on the rarest day of the year, Monday, February 29th, by the EveryLife Foundation for Rare Diseases in collaboration with other non profits. "Rare Disease Week on Capitol Hill" expands upon Rare Disease Day and brings rare disease community members from across the country together to be educated on federal legislative issues, meet other advocates, and share their unique stories with legislators. "Dusty's Trail: Summit of Borneo" features Dusty Brandom, a young man with Duchenne muscular dystrophy, and has garnered worldwide attention for Duchenne. Catherine Jayasuriya, who is Dusty's mom, will participate in a discussion panel at the event.
"The film celebrates life through the ties that bind all humanity. It is about creating a happy fulfilling and inspiring life when the odds seem against it. We are excited that it is screening in DC. A major part of our mission at Coalition Duchenne is raising awareness," said Catherine.
When Catherine led a charity Expedition to Mt. Kinabalu in Malaysian Borneo she took a film crew to capture the pain, the joy and the tears. Joining her on the climb were an international team of 60 climbers. Catherine was also celebrating her ancestry. Her grandmother was a Kadazandusun, a native tribe of hill dwellers in North Borneo. Dusty is confined to an electric wheelchair, unable to ambulate, lift a glass or hug. He stayed behind in Newport Beach, too weak to make the arduous trip, but spoke to his mother by cell phone when she conquered the summit of 13,455 feet, and raised the Coalition Duchenne flag in honor of the hundreds of thousands of boys and young men worldwide who have Duchenne.
The film crew captured over 80 hours of footage including the climbing heroics, interviews with doctors and scientists working in the United States on Duchenne and most importantly young men with Duchenne and the family members who support them.
In one example, the film crew followed Jayasuriya to a poor "Kampung" or village in the Borneo hinterland where they met a 14-year-old with Duchenne called Azmi. In some of the first footage of a Duchenne boy in the third world Azmi is shown being helped by his siblings and contrasted with Dusty at home in California. The circumstances are very different but there is a commonality of rising above a shared challenge.
Writing in the Los Angeles Times, John Depko said, "The film features stunning footage of their climb up the mountain's famous alpine meadow ecosystem. These beautiful scenes are intertwined with pointed interviews with doctors, patients and researchers working to cure the disease…. Joy, hope and tears get equal time on screen."
"The climb is growing every year. People are inspired by Dusty and the other young men and boys with Duchenne. Many who have seen the film want to sign up right away!" said Jayasuriya.
The sixth annual Expedition Mt Kinabalu will be held on August 5-7th, 2016. To join the climb contact Catherine Jayasuriya at Catherine(at)coalitionduchenne(dot)org.
"Dusty's Trail: Summit of Borneo" is distributed by Cinema Libre Studios.
Catherine founded Coalition Duchenne in 2011 to raise global awareness for Duchenne muscular dystrophy, to fund research and to find a cure for Duchenne. Coalition Duchenne is a 501c3 non-profit corporation. For more information about Coalition Duchenne, please visit http://www.coalitionduchenne.org.
Duchenne muscular dystrophy is a progressive muscle wasting condition. It is the most common fatal genetic condition of childhood. Duchenne occurs in 1 in 3,500 male births, across all races, cultures and countries. Duchenne is caused by a defect in the gene that codes for the protein dystrophin. This is a vital protein that helps connect the muscle fiber to the cell membranes. Without dystrophin, the muscle cells become unstable, are weakened, and lose their functionality. Life expectancy ranges from the mid teenage years to the mid 20's. Their minds are unaffected.
The EveryLife Foundation for Rare Diseases is a 501(c)(3) nonprofit dedicated to accelerating biotech innovation for rare disease treatments through science-driven public policy. For more information visit http://everylifefoundation.org/
Rare Disease Legislative Advocates (RDLA) is a program of the Everylife Foundation collaborative organization designed to support the advocacy of all rare disease groups.
Rare Disease Week on Capitol Hill brings rare disease community members from across the country together to be educated on federal legislative issues, meet other advocates, and share their unique stories with legislators. See more at: http://rareadvocates.org/rdw/#sthash.kiJIZRn1.dpuf