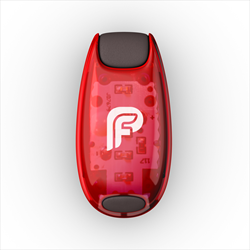 Runners and cyclists have an extremely difficult time staying visible. Phantom Fit LED safety lights make staying visible a possibility in any weather.
Medford, OR (PRWEB) March 01, 2016
Phantom Fit has today announced the availability of the company's latest piece of fitness gear – a new LED light designed to enhance safety for runners on the road. Phantom Fit's new light incorporates cutting edge technology with a compact form factor to ensure ease of use and peace of mind.
"We've always been dedicated to ensuring our customers are safe while getting fit, and the new LED safety light is yet another step toward that ultimate goal," stated Ryan M., Owner of the company.
The LED safety light is sold in a pack of two slim, lightweight lights that can be easily attached to clothing with the attached clip. However, the lights also ship with two Velcro straps that can be used to attach the lights around a runner's wrists or ankles.
Each light features three functions. "On" creates a bright, steady light that cannot be missed. "Blink" mode provides even more visibility by flashing the light on and off. Finally, "strobe" creates a powerful strobe effect that cannot be missed for the ultimate in safety, whether the wearer is running, jogging or walking outdoors.
Wearers can enjoy reliable operation rain or shine. Measuring just an inch by two inches, these powerful lights can last up to 70 hours in steady/on mode, or 96 hours in strobe mode on a single CR2032 battery per light. They are also up to 53% more visible than any reflective running gear.
Phantom Fit's LED running lights ship with two Velcro straps, as well as two extra CR2032 batteries.
"It's all about giving our customers a way to enhance their safety in all weather conditions," added Ryan M.
Phantom fit is offering 25% off for a limited time by using coupon code S97OYHFM.
To learn more about Phantom Fit, or the company's LED safety light and other fitness equipment, visit http://www.PhantomFit.com.