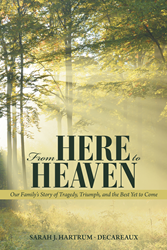 My book gives the brutally accurate, raw picture of grief, that everyone will experience at some point in their lives
ST. LOUIS (PRWEB) March 01, 2016
Grieving the loss of someone or something results in substantial physical, emotional and social impacts that leave many wondering how they will move forward in life.
After suffering from the loss of her husband and two of her five children after a hiking accident in the Ozark Mountains of Missouri, Sarah Hartrum-Decareaux wrote the book "From Here to Heaven" to guide others through their own grief journey and let them know they are not alone.
"My book gives the brutally accurate, raw picture of grief, that everyone will experience at some point in their lives," Hartrum-Decareaux says. "It is a testimony of my own experiences, but also a guide for anyone who is experiencing the overwhelming emotions that accompany grief."
In this intimate story, Hartrum-Decareaux shares how she has relied on her faith in God in order to move forward in life and guide her children through their own grief process.
"This book is our family's testimony of God's provision as He sees my remaining children and me through the brutal grief process and toward renewed life," Hartrum-Decareaux says.
For more information, visit http://www.westbowpress.com/
"From Here to Heaven"
By Sarah Hartrum-Decareaux
ISBN: 1512720135
Available in softcover, hardcover, e-book
Available on Amazon, Barnes & Noble and WestBow Press
About the author
Sarah Hartrum-Decareaux is a former military wife who homeschooled her five children. Since suffering the loss of her husband and two children in January of 2013, Hartrum-Decareaux works as a substitute teacher, wrote "From Here to Heaven" and gives back to her community that surrounded her with support during her grieving process.
# # #
**FOR IMMEDIATE RELEASE**
For review copies or interview requests, contact:
Brittney Beck
630.336.1072
bbeck(at)bohlsengroup(dot)com