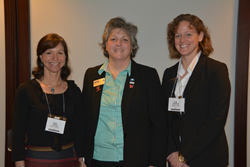 Please join us in congratulating all of our deserving 2016 Award and Scholarship recipients!
Albany, NY (PRWEB) February 29, 2016
On Saturday, January 9, 2016, NYSATA announced and recognized the recipients of its 2016 awards and scholarships during the NY state business meeting at the eastern regional athletic training conference in Boston, MA. Two professional awards were presented to nine recipients and four undergraduate student scholarships were announced, including the unveiling of a new memorial scholarship.
The Kent Scriber Recognition Award, named after the NYSATA pioneer, is an Executive Board-nominated award to individuals or groups of individuals who are deserving of recognition for acts, promotion, support and/or service which positively reflect the goals and mission of NYSATA and the profession of athletic training (AT) within New York State. This year, NYSATA is proud to announce two winners of this prestigious award, both providing leadership and service within the organization. The 2016 recipients are Susan Geisler, MA, ATC, PT and Christine Jenkins, MS, ATC.
Susan Geisler serves as Supervisor of Physical Therapy at Cornell University's Gannett Health Services and is dually credentialed as a physical therapist and athletic trainer. She has been actively involved with NYSATA for several years and has been an active participant in the pursuit of updating the NYS Practice Act for certified athletic trainers. She is currently in the midst of her 5th year as the chair of the NYSATA Reimbursement Committee. Last February, Ms. Geisler participated in the National Athletic Trainers' Association (NATA) "Hit the Hill Day", representing NYS in our nation's capital to increase the awareness about the profession of athletic training and the safety and healthcare needs for the athletes ATs serve. She attended the BOC Regulatory Conference in Omaha, NE representing the NYSATA and all NYS constituents.
Christine Jenkins, MS, ATC holds the title of Assistant Professor at Hudson Valley Community College in Troy, NY, assists with coverage of athletic events there, and also serves as an adjunct instructor at Russell Sage College. Ms. Jenkins has become an invaluable asset to NYSATA, serving as the Governmental Affairs Committee chair, a position which she has held since 2009 after a stint on NYSATA's Public Relations Committee. Her enthusiasm and dedication to the profession of AT, specifically in the area of governmental affairs, cannot be rivaled. Overall, NYSATA has made great gains in achieving a closer vision of an updated practice as a direct result of her efforts. Ms. Jenkins has coordinated annual NYSATA Lobby Days in Albany for many years, regularly interacts with our legislative advisor, has helped organize visits for NYS legislators and/or their staff to various AT rooms across NYS, and has individually met with countless legislators and staffers in Albany.
The Joseph Abraham Award, which is given annually to the NYS high school(s) that provide outstanding athletic injury care and athletic training services to the student-athletes of their school, was also announced. Joe Abraham was a pioneer during his 40 years as an athletic trainer and one of the first professionals to recognize the need for quality athletic training programs at the high school level. This year, the Joseph Abraham Award had a record number of applications, and although not all schools received the award, NYSATA was excited and proud to see the amazing work of ATs in high schools across NYS. There are five schools and their seven athletic trainers receiving recognition in 2016: Amsterdam High School - Carla Pasquarelli, ATC; Longwood High School (Middle Island, NY) - Michele Mensch, ATC, CSCS; Riverdale Country School (Bronx, NY) - Lori Gill, MS, ATC, Katie Boushie, ATC and Michael Powers, ATC; Sweet Home High School (Amherst, NY) - Marcy Gerlach, MS, ATC; and Trinity School (New York, NY) - Pablo J. Acosta, ATC. Winning schools whose ATs were not present at the awards ceremony will be officially recognized at their schools this spring with a presentation by a member of the NYSATA Executive Board.
Four undergraduate AT student scholarships were also awarded during the ceremony. The 2016 recipient of the NATA District 2 Scholarship for NYS was Breanna Fortney of the College at Brockport (SUNY). Currently a Junior in the Brockport Athletic Training Education Program (ATEP), Ms. Fortney serves as the Secretary of Brockport's Sports Medicine Club and is also a member of Phi Epsilon Kappa, National Health & Physical Education Honors Fraternity. She has the distinction of being in Brockport's Honors College program and is a member of both the Alpha Chi National College Honor Society and the National Society of Collegiate Scholars.
Anne Bae of Stony Brook University received the 2016 NYSATA Scholarship. Currently a senior in the SBU ATEP, Ms. Bae serves as the President of the SBU Sports Medicine & Athletic Training Club, is a member of the Golden Key Honor Society, and also received SBU's Henry and Marsha Laufer Scholarship recipient for the 2015-2016 academic year.
The 2016 Ed Abramoski Scholarship, named for the legendary former Buffalo Bills Head AT, was awarded to Abrianna D'Onofrio of Ithaca College. Currently a senior in Ithaca's ATEP, Ms. D'Onofrio serves as the President of the Ithaca College Athletic Training Student Association, was accepted to recently present a professional abstract at the eastern regional AT conference (EATA), and was also awarded Ithaca's Laurence S. Hill and Adrian M. Newens Scholarship in the Health Professions.
NYSATA was pleased to announce the addition of a fourth scholarship that was developed in late 2015 to honor a long-time friend and colleague, Paul DeMartinis, who lost his battle with cancer in September. DeMartinis was a huge proponent of athletic training and a dedicated MEDCO employee for 25 years. During his career he served two terms on the Board of Certification Board of Directors, and in 2012 Paul was given the Dan Libera Service Award for outstanding service to that organization. The recipient of the inaugural Paul DeMartinis Memorial Scholarship was Trevor Thompson of Ithaca College. Currently a Junior in Ithaca's ATEP, Mr. Thompson is an active member of the Athletic Training Student Association and has earned academic recognition on the Dean's List. He was also the recipient of Ithaca's Flora Brown Scholarship and Grant Egbert Scholarship.
As National Athletic Training Month (NATM) 2016 begins, please join us in congratulating all of our 2016 Award and Scholarship recipients on their achievements, service, drive and contributions to the profession of athletic training!
NYSATA, founded in 1976 and incorporated in 1989, stands to advance, encourage and improve the profession of athletic training (AT) by developing the common interests of its membership for the purpose of enhancing the quality of healthcare for the physically active in NYS. Athletic training is practiced by certified athletic trainers (ATs), who have expertise in the assessment, emergency management, rehabilitation and prevention of acute and chronic sport-related injuries, illnesses and conditions, including concussions. Comprised of over 1,200 certified and practicing athletic trainers, NYSATA is the state-wide affiliate of the regional EATA and District 2 of the NATA.