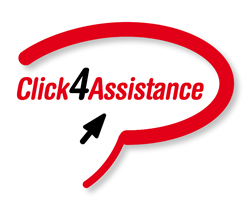 We hope Cancer Research UK's ground breaking application for this solution will revolutionise the availability of healthcare information."
United Kingdom (PRWEB UK) 2 March 2016
Live Chat Support Software provider, Click4Assistance, has been selected to form a technological partnership with Cancer Research UK to supply Live Chat Services. Following rigorous exploration of available solutions, Cancer Research UK chose Click4Assistance due to the ability to fully customise the Live Chat Support Software to meet the unique needs of the charity, along with the simplicity of use for patients, and most importantly, the exceptionally high levels of security regarding data protection.
A specialist team of nurses has been formed to provide emotional and medical support to patients living with cancer through Live Chat; an instant and accessible communications channel.
Patients will benefit from a private interaction with a qualified advisor, without fear of being overheard while discussing sensitive information regarding their condition or healthcare. The chat can be accessed from any internet enabled device, including laptops, mobile phones or tablets, ensuring the service is available wherever it is needed.
Gary Martin, Managing Director at Click4Assistance, stated:
"Click4Assistance is delighted to be involved with such a worthy organisation, and we look forward to working with CRUK to continue to improve services to patients during a vulnerable period of their lives. Live Chat is often discussed as a sales communication channel, however can extend communication accessibility across a range of services. We hope Cancer Research UK's ground breaking application for this solution will revolutionise the availability of healthcare information."
Cancer Research UK requires particularly stringent regulation around data security due to the nature of the chat content. Click4Assistance has been established for more than 10 years, one of the first companies in the UK to develop and release Live Chat Support Software, and has established strict data protection protocols during that time. All data is processed and stored securely within the UK, ensuring compliance with high level data protection regulations.
Click4Assistance works with multiple charities to provide Live Chat Services, including Citizens Advice Bureau around the UK, The Children's Society, MS UK and many more.