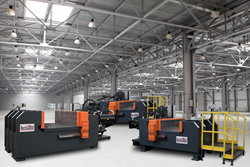 We are committed to providing our customers with competitive advantages in their manufacturing processes, said Jeff Debus, Beckwood President.
Saint Louis, MO (PRWEB) February 29, 2016
Beckwood Press Company recently manufactured three bulldozer presses for one of the world's largest suppliers of railroad and transit system products. The new 3-press package will be used to form, straighten and bend I-beams to support the improvement of railway infrastructure. In total, this railroad industry leader now relies on seven Beckwood presses in their daily forming operations.
Highlights of the (2) 260-ton presses and (1) 400-ton press include Parker Industrial Grade Hydraulic Cylinders, a Regeneration Circuit for the fast approach and retract modes, and a dual-mode control system for easy operation.
All three presses feature a self-lubricating gib guidance system with graphite-impregnated bronze wear strips. This adjustable system provides robust guiding of the ram with extra stability, ensuring squareness and parallelism are maintained under off-center loading conditions.
In accordance with Beckwood's rigorous quality standards, the press structures are designed to the Infinite Life classification using Finite Element Analysis (FEA) design software. The computer-aided simulations, which mirror real-world manufacturing stresses, ensure the designs are robust enough to handle even the most taxing applications.
"We are committed to providing our customers with competitive advantages in their manufacturing processes," said Beckwood President Jeffrey Debus. "This 3-press package is another great example of how our Sales and Engineering teams worked with the customer to develop a solution tailored to their specific needs and production goals."
About Beckwood Press Company
Beckwood Press Company is a leading hydraulic press manufacturer, located in St. Louis, MO USA. They offer quality, custom hydraulic presses for virtually every industry and application, including a line of temperature controlled presses for compression molding, composite forming and high-temperature Hot Forming / SPF applications. Beckwood also manufactures the Triform line of Sheet Hydroforming Presses in both Fluid Cell and Deep Draw configurations, hydraulic ring expanders / sizers, hot joggle presses, as well as a line of stretch forming machines for both extrusion, sheet / leading edge applications. Get the latest news from Beckwood at http://www.beckwoodpress.com/news.