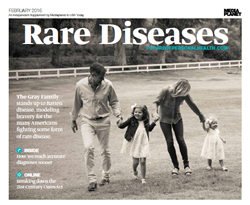 (PRWEB) February 29, 2016
The print component of "Rare Diseases" is distributed within today's weekday edition of USA Today, with a circulation of approximately 250,000 copies and an estimated readership of 750,000. The digital component is distributed nationally, through a vast social media strategy, and across a network of top news sites and partner outlets. To export the digital version of the campaign, click here.
Aegerion Pharmaceuticals is a committed to caring for individuals with Generalized Lypodystrophy, a rare sub-type of lipodystrophy characterized by the loss of fat tissue all over the body, in turn causing lack of leptin and metabolic complications. The absence of fat is quite visible and a person with GL appears very thin and often muscular. People living with GL have low leptin levels that lead to excessive hunger and inability to process food properly.
Many medical advancements have been made in recent years and treatments are available.
This campaign was made possible with the support of Aegerion Pharmaceuticals, a leader in drug development taking an active role in raising awareness for Generalized Lipodystrophy.
For more information, visit http://www.GLfacts.com
About Aegerion Pharmaceuticals
Aegerion Pharmaceuticals is a biopharmaceutical company dedicated to the development and commercialization of innovative therapies for patients with debilitating rare diseases. For more information about the company, please visit http://www.aegerion.com.
About Mediaplanet
Mediaplanet is the leading independent publisher of content-marketing campaigns covering a variety of topics and industries. We turn consumer interest into action by providing readers with motivational editorial, pairing it with relevant advertisers, and distributing it within top newspapers and online platforms around the world.