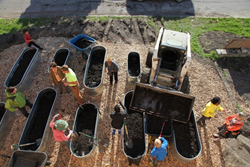 We know we are investing where (positive) change will occur.
Livonia, Mich. (PRWEB) February 29, 2016
Trinity Health today announced the recipients of grants under its Transforming Communities Initiative (TCI), a program that will result in the investment of about $80 million in grants, loans, community match dollars and services for six communities over the next five years. Recipients of the initial grants from Trinity Health of up to $500,000/per year are teams of collaborating partners who will use the funds and other benefits to work together to improve health and well-being in their respective communities.
All of the programs will focus specifically on policy, systems and environmental changes that can directly impact specifically identified areas of high local need and which can reduce tobacco use and obesity, leading drivers of preventable chronic diseases and high health care costs in the United States.
"The selected community partnerships have strong records transforming the health and well-being of their communities' most vulnerable populations already," said Bechara Choucair, M.D., senior vice president for Safety Net and Community Health. "We chose them for this support because their impressive proposals, highlighting their strategic collaborations and shared commitment, gave us confidence in even greater future success improving people's lives. We know we are investing where change will occur."
Recipients of Trinity Health's inaugural TCI grants will receive up to $500,000 per year for the next five years as well as a number of other supportive services, including technical, planning and investment assistance. They are:

Trenton Health Team, Trenton, N.J.: Program aims to increase access to and coordinate care for both medical and behavioral conditions, increase access to healthy foods with stores and farmers market, build new playgrounds, expand school breakfast program and create school gardens. Partners include, but are not limited to: St. Francis Medical Center, Trenton Health Team; NJ Partnership for Healthy Kids, Millhill Child & Family Development, Isles, Inc., Children's Home Society and Children's Futures.
Live Well Springfield TCI Partnership, Springfield, Mass.: Program aims to provide services and improve policies that target low-income adults and children disproportionately impacted by health conditions related to poor diet, inactivity, tobacco use, and other social determinants. Specific strategies include enhancing early education and care sites through nutrition and physical activity, School Nutrition improvements, Complete Streets infrastructure and tobacco use prevention. Partners include, but are not limited to: Mercy Medical Center and Live Well Springfield (LWS), a multi-sector community based coalition that includes over 26 organizations working in the city.
Proviso Partners for Health, Maywood, Ill.: Programs aim to improve health by creating pathways to training and careers in the green economy, implementation of nutrition programs and lung health needs of Chicago's communities. Coalition partners include, but are not limited to: Loyola University Health System, Loyola University Chicago Stritch School of Medicine and Marcella Niehoff School of Nursing, and more than 25 committed schools and daycare centers, social service organizations, businesses and government agencies.
Healthy Montgomery, Montgomery County, Md. Program aims to reduce chronic disease rates in communities within Montgomery County. Partners include, but are not limited to: Institute for Public Health Innovation, Holy Cross Health, Department of Health and Human Services, the Eat Well Be Active Partnership, Department of Recreation, Montgomery County Public Schools, City of Gaithersburg, City of Takoma Park, and Community Health and Empowerment through Education and Research (CHEER), among many others.
Promise Partnership, Boise, Idaho: Program aims to address factors related to poor diet, inactivity and tobacco use within the Treasure Valley. Partners include, but are not limited to: Saint Alphonsus Regional Medical Center, United Way of Treasure Valley, Inc., Cities of Boise & Caldwell, Boise, Nampa, Caldwell School Districts, Central &, Southwest health Districts, Community Health Clinics, Treasure Valley Education Partnership, St. Luke's Health System and Boise State University.
Syracuse Health Coalition, Syracuse, N.Y.: Program aims to fund efforts addressing local breast-feeding policies, increased access to indoor recreational space, and implementation of elements of the city's complete streets plan. Partners include, but are not limited to: St. Joseph's Health, Onondaga County Health Department, Near Westside Initiative, Northside Urban Partnership, Lerner Center at Syracuse University, and HealtheConnections. 
In a later phase of the program, low-interest investment loans supporting interventions related to social determinants of health will be made by Trinity Health to community and economic development organizations in the communities served by all Trinity Health hospitals. They will be used to address specific issues including access to food, housing circumstances and early childhood issues.
A select list of strategies to be prioritized during phase one include:
Advocating for Tobacco 21 policies
Developing and implementing Complete Streets plans
Establishing nutrition and beverage standards and/or policies in head start programs, daycare centers and schools
Encouraging enhanced breast-feeding policies
Expanding physical activity in schools
While the program is slated for five years, program leaders have planned for long-term program sustainability by including plans for optimizing partnerships and leveraging local match dollars. The TCI is one of many of Trinity Health initiatives aimed at achieving better health, better care, and lower costs for high-cost, complex patients, and especially for vulnerable populations and those who are poor.
About Trinity Health
Trinity Health is one of the largest multi-institutional Catholic health care delivery systems in the nation. It serves people and communities in 21 states with 90 hospitals, 124 continuing care locations — including home care, hospice, PACE and senior living facilities — that provide nearly 2.5 million visits annually. Based in Livonia, Mich., and with annual operating revenues of $15.8 billion and assets of $20.4 billion, the organization returns about $1 billion to its communities annually in the form of charity care and other community benefit programs. Trinity Health employs about 95,000 full-time employees, including 3,900 employed physicians. Committed to those who are poor and underserved in its communities, Trinity Health is known for its focus on the country's aging population. As a single, unified ministry, the organization is the innovator of Senior Emergency Departments, the largest not-for-profit provider of home health care services — ranked by number of visits — in the nation, as well as the nation's leading provider of PACE (Program of All Inclusive Care for the Elderly) based on the number of available programs. For more information, visit http://www.trinity-health.org. You can also follow @TrinityHealthMI on Twitter.
###