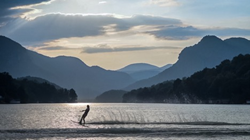 (PRWEB) March 01, 2016
LAKE LURE, N.C.: Leave the laptop on the charger and unplug from a hectic life into a digital detox in western North Carolina. From enjoying scenic views on the water or indulging in a massage with a glass of wine, Lake Lure & the Blue Ridge Foothills is a treasure trove of hidden luxuries and little-known adventures offering distractions from the stressors of everyday life. Conveniently located between Asheville and Charlotte, Lake Lure is the perfect mountain retreat from the daily grind.
RELAX AT RUMBLING BALD RESORT
http://www.RumblingBald.com
Unplugging is easy when an abundance of amenities are readily available and within reach. At Rumbling Bald Resort on Lake Lure, enjoy three restaurants, two outdoor pools, one indoor pool, a private beach, hiking and biking trails, spa and more. Unwind with a sunset dinner cruise for two on glittering Lake Lure or hit the links at one of the two beautiful onsite golf courses.
A DAY ON THE LAKE
http://www.LakeLureAdventureCompany.com
Boat, ski, swim – whatever the pleasure, Lake Lure in western North Carolina caters to it. Check out Lake Lure Adventure Company, the go-to for equipment rentals and expert guides for a day of water sports. Bring a GoPro and capture someone's first time on water skis or shredding wakes like a pro! Rent a pontoon boat and tie up with friends, good food and some adult beverages as the sun sets over the mountain landscape.
Check out our water sport action.
GET LOST AT CHIMNEY ROCK STATE PARK
http://www.ChimneyRockPark.com
Though Chimney Rock State Park may be silver-screen famous for its role in "Last of the Mohicans," there are no screens required to explore it! Check out the artifacts from the filming of the blockbuster, displayed at the gift shop, on the way up to witness the 75-mile panoramic views from atop Chimney Rock itself. Hike more than five different western North Carolina trails designed for every experience level and check out Grady's Animal Discovery Den to learn about the local flora and fauna.
About Lake Lure & the Blue Ridge Foothills of Rutherford County, N.C.
Lake Lure & the Blue Ridge Foothills is a destination where simple pleasures outshine the digital-age spectacles – a place where main streets reign over mega malls; where nature delivers the best adventures; and where history lives boldly and visibly in architecture, story, song and spirit. Experience these journeys and more while visiting the Blue Ridge Foothills of western North Carolina. Home to Lake Lure, Chimney Rock, Rutherfordton, Spindale, Forest City and Bostic, there is a world waiting for you to explore, enjoy and love. More info, visit http://www.RutherfordTourism.com or call 800-849-5998.
###