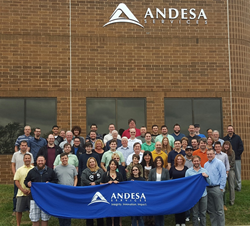 Allentown, Pa (PRWEB) March 03, 2016
Andesa Services is very proud to announce that the Company has formed an Employee Stock Ownership Plan (ESOP), which is a supplement to the company's existing 401(k) plan, allowing employees to be co-owners of the 33-year-old company. An ESOP is an employee benefit plan which over time grants employees shares in Company stock at no cost to them and allows an avenue by which employees can become stakeholders in Andesa. Employee ownership promotes participation and leadership on every level for the more than 125 employees of Andesa Services and represents the future of the company, its employees and the maintaining of the culture.
"Over the long-term we believe an ESOP is an effective employee centric vehicle for aligning employee and shareholder interests," states Ron Scheese, Andesa Services President and CEO. "The structure provides for a greater ability for the organization to preserve its vision and values. By offering an ESOP we are creating a direct link between employee engagement and results which impact value for all employees. I am grateful for our employees who daily put Company ahead of self and work tirelessly toward the success of Andesa."
Andesa employees have now joined the ranks of other employee-owned companies throughout the United States. As employee owners they work within a culture of ownership that produces both rights and responsibilities. The formation of this ESOP enhances a culture that is ever-apparent in the Andesa footprint.
About ANDESA SERVICES
Andesa Services provides comprehensive, integrated policy administration, plan administration and support solutions for life insurance and annuity carriers and producers. Andesa began as a pioneer in the field of SaaS policy administration. Today, more than 30 years later, we provide seven of the top 13 life and annuity carriers and several top brokers with a comprehensive suite of services backed by decades of proven, practical expertise in the life insurance industry. Andesa's highly experienced team of U.S.-based professionals is made up of devoted client advocates who help insurers large and small save time, reduce risk and tap unrealized value.
To learn more about Andesa visit http://www.andesaservices.com and follow the Company on Twitter and LinkedIn.