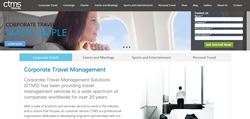 We're excited to be able to offer an even better user experience for our current and potentially new clients
(PRWEB) March 02, 2016
Corporate Travel Management Solutions (ctms), a full-service corporate travel company, has launched a newly redesigned website http://www.ctmstravel.com. Key features of the newly structured site include a cleaner more interactive interface, a more engaging user experience and a responsive design.
"We're excited to be able to offer an even better user experience for our current and potentially new clients," said Tom Osovitzki, Chief Executive Officer of ctms. "Like the travel services we provide, this site offers a variety of options to users so they know exactly who we are and extends our mandate to provide superior customer service and make corporate travel simple."
The new site will provide a refreshed and simplified look, combined with enhanced content (i.e. customer-focused blog posts), improved search functionality, and optimization for mobile devices. In addition, the site will acquaint users with the numerous services under the ctms umbrella which may have not been familiar prior: Corporate Travel, Sports and Entertainment, Jet Charter Services, Meetings, Incentives & Groups and Leisure travel.
Catering to a global audience, the ctms site will be translated in American English, Canadian English, UK English and Canadian French representing clients from our various offices globally. "We wanted to meet the needs of our customers – they're travellers. No matter where they are in the world, they can access our site in a language that's most familiar to them," says Michelle Harris, Director of Marketing and Communications. "Our navigation system will allow users to search for "need to know" information that get them the information they need quickly and efficiently."
The new ctms website will be updated on a regular basis with services announcements, new business activity, corporate travel news, events, blogs, case studies and careers. Visitors are encouraged to visit website http://www.ctmstravel.com. For more, contact ctms at 1-866-359-2867 or via email at info(at)ctmstravel(dot)com.