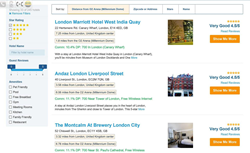 The industry has never had any ticket + hotel package technology like this before and we are definitely excited to be the first to bring this new product to market during such a historic sports event
London, England (PRWEB) March 02, 2016
The countdown for the IBF World Heavyweight Title has begun.
With Anthony Joshua facing off Charles Martin at The O2 Arena on April 9th, both standard and VIP tickets are already sold out. However for one of the biggest fights of the year, exclusive packages are still available through HotelPlanner, the hotel event specialist. In partnership with Matchroom Sport, HotelPlanner is providing the first ever flexible package offering for boxing fans. The package includes two Lower Tier tickets which will be posted to the customer plus hotel accommodations from a wide selection of quality properties located close to the venue.
With great boxing tickets, fans can take advantage of booking at select luxurious 5-star hotels. Samplings include:

London Marriott Hotel West India Quay, with ample sized rooms close to public transportation
Grange Tower Bridge, with complimentary Wi-Fi, indoor pool, and in-house restaurant
Andaz London Liverpool Street, with a 24-hour business center, complimentary wired and wireless internet, and round-trip airport services
The Montcalm at The Brewery London City, with a business center, express check-in, and dry cleaning/laundry services
Mondrian London, with complimentary Wi-Fi and a rooftop bar with panoramic views of London
"We call it flexible packaging because the event organizer controls everything in the package and can customize the package in real time, and it's flexible for the customer because they get their choice of hundreds of hotels and room types at deeply discounted rates," stated Tim Hentschel, CEO of HotelPlanner.com. "The industry has never had any ticket + hotel package technology like this before and we are definitely excited to be the first to bring this new product to market during such a historic sports event."
Long-time boxing promoter and Matchroom Sports Chairman Barry Hearn stated, "We are thrilled to have HotelPlanner on board providing the first official hotel and ticket packaging available for an IBF World Heavyweight Title."
Secure this hotel package booking before April 9th. For more information and details, please visit https://www.hotelplanner.com/Package/0858336B-AF25-448B-BB24-084B7DF3A3E1
About HotelPlanner
HotelPlanner.com provides group hotel booking services to 2,000 groups per day in the global group travel market. The company's group hotel booking service ensures the lowest rates by allowing customers to receive quotes online directly from hotel group sales managers. HotelPlanner allows customers to book hotels for business meetings, conferences, conventions, family reunions, weddings, extended stays, tours, military reunions, church events, and group travels. The company also provides mobile applications for booking group hotel reservations. The company owns and operates Meetings.com, a site that provides information, planning and booking services for group, meeting, and individual hotel stays for the corporate, associations and business to business enterprises. With a mission statement geared towards, "Bringing People Together," HotelPlanner & Meetings.com are the global experts for hotel sourcing, providing direct clients and market leading affiliates with unmatched group and event discounted room rates plus localized service levels not available at other travel companies. Founded in 2002, the company has offices in London, England, (European Headquarters), Hong Kong (Asia Headquarters), West Palm Beach, FL (USA Headquarters), and Las Vegas, Nevada.
HotelPlanner.com is proud to provide hotel reservation services to the following valued clients within the sports team and university, corporate, and government organizations. The company's Pro Sports Team clients most notably include Matchroom Sport, the San Diego Chargers, Washington Redskins, St. Louis Rams, Professional Bowlers Association, European Professional Golfers (EuroPro), Super League (Rugby), AFC Wimbledon, Millwall F.C., and Queens Park Rangers F.C. In terms of college travel, Universities such as Texas A&M, New Mexico State, Saint Mary's College, Bradley University, University of Reno-Nevada, University of Illinois-Chicago, Northeastern University, Cal Poly, and California State University Northridge use HotelPlanner to negotiate their group travel and recruiting stays. Corporations such as CROMPCO, Siemens, Jackson Motor Sports, National Grid, Chicago Bridge & Iron, Publix, and Servpro and Government clients such as the State of Louisiana, State of Mississippi, Government Services Agency, US Marines-Camp Le Jeune (Group), and US Communities also utilize HotelPlanner.com as their hotel procurement provider to negotiate hotel rates, book hotel reservations and provide excellent service year-round.